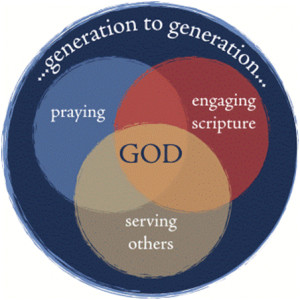 At the Lenten Lunches, often there is soup left over. Marilynne Herbster coordinates using these left-overs to provide meals for some of our shut-in members. Peggy and Paul Foerster are pleased to have been able to transport soups to Harvey Cox on two Sundays. Harvey is a member of our Coffee and Conversation class that meets each Sunday between services. Harvey has participated in the class for several years although he is almost totally blind. In the past few months he as been unable to come to church even if there is someone to drive him because his inability to see subjects him to motion sickness when riding in a car. Harvey greatly appreciates the contact with fellow parishioners, through the soup ministry, the eSpear, and the weekly emails from Coffee and Conversation. He is able to read these on his computer using his document camera and enhanced view screen. Although Harvey is well into his 90s, he is still alert and communicative. He is a role model for us as we grow older.  In addition, LaRue Acosta has also been part of this ministry, and noted that this act of service fit so well with Fr. Nate's sermon on February 21st about physical and spiritual nourishment.   Please contact Marilynne if you are interested in taking part in this ministry.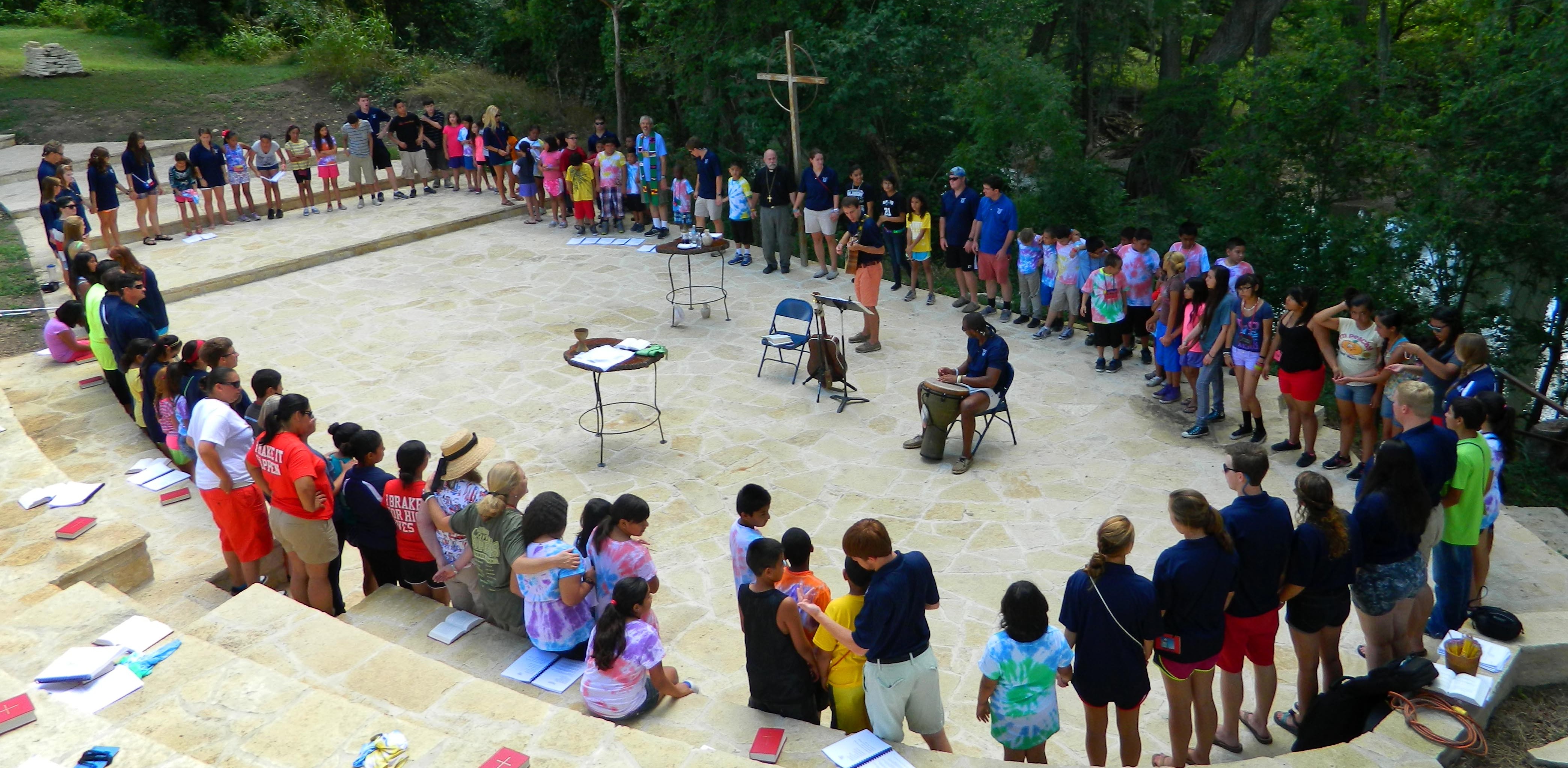 Come experience the beauty of the Texas Hill Country and the refreshing presence of God at Camp Capers the weekend of April 1-3.
It will be a time to be with your family, friends, and your family in Christ at a peaceful location. The new lodge will hold up to 80 people and has been reserved for us. Come and be a part of this great time to connect with others in the St. George community. All ages are welcome to attend this retreat where we will sing, pray, worship, play and learn. Our theme for the weekend will be "The Joy of the Lord is our strength." Click here for more information on Camp Capers.
Schedule & Meals
Arrive and Check-In Friday, April 1 after 6:00 PM.
Dinner on your own as you drive to Camp Capers.
Saturday breakfast, lunch, and dinner included in fees.
Sunday breakfast included in fees.
Sunday Eucharist at Camp Capers, then depart for lunch on your own as you drive home.
Pricing (Financial Assistance Available If Needed)
Please make checks payable to "St. George Episcopal Church" and put "Parish Retreat" on the memo line.
To pay with debit/credit card, please use the PayPal button coming soon. A 3% processing fee has been added for all card purchases.
Family of One: $94.00 for whole weekend ($50 lodging & $44 meals)
Family of Two: $138.00 for whole weekend ($50 lodging & $88 meals)
Family of Three: $182.00 for whole weekend ($50 lodging & $132 meals)
Family of Four: $226.00 for whole weekend ($50 lodging & $176 meals)
For larger families, please include $44 for meals for each additional family member. If you require a second room, please add $50 for additional lodging.
Saturday Only (No overnight): $50 which includes breakfast, lunch, and dinner.
***Children under two are free, please don't count them in your pricing.
Use this form to register your family.  There is a lot of interest and we will accept registrations on a first come, first served basis.  For general inquiries, please email stgeorge@saintgeorgechurch.org and we will be glad to help you out.
The Mitchell McGregor Fullen Scholarship is a partial scholarship available to provide financial aid to any St. George Church or School family. This scholarship was established in 1987 by the Fullen family in memory of their son Mitchell who lost his young life in a tragic accident. To quote his mother, Patricia Fullen Whitehouse, "When you have a child die, it is difficult, and your hope is that they will be remembered, not forgotten."  Mitchell himself benefited from a scholarship to attend the school and the family wanted to gift others in Mitchell's name.
Anyone interested in applying for this scholarship must have successfully completed enrollment or re-enrollment at St. George Episcopal School and applied through the School's regular Financial Aid process. Families should then write a letter to the Rector of St. George Church asking to be considered for the Fullen Scholarship. Please check with the School Office for information and procedures for applying for Financial Aid. The deadline for the priority date is March 20.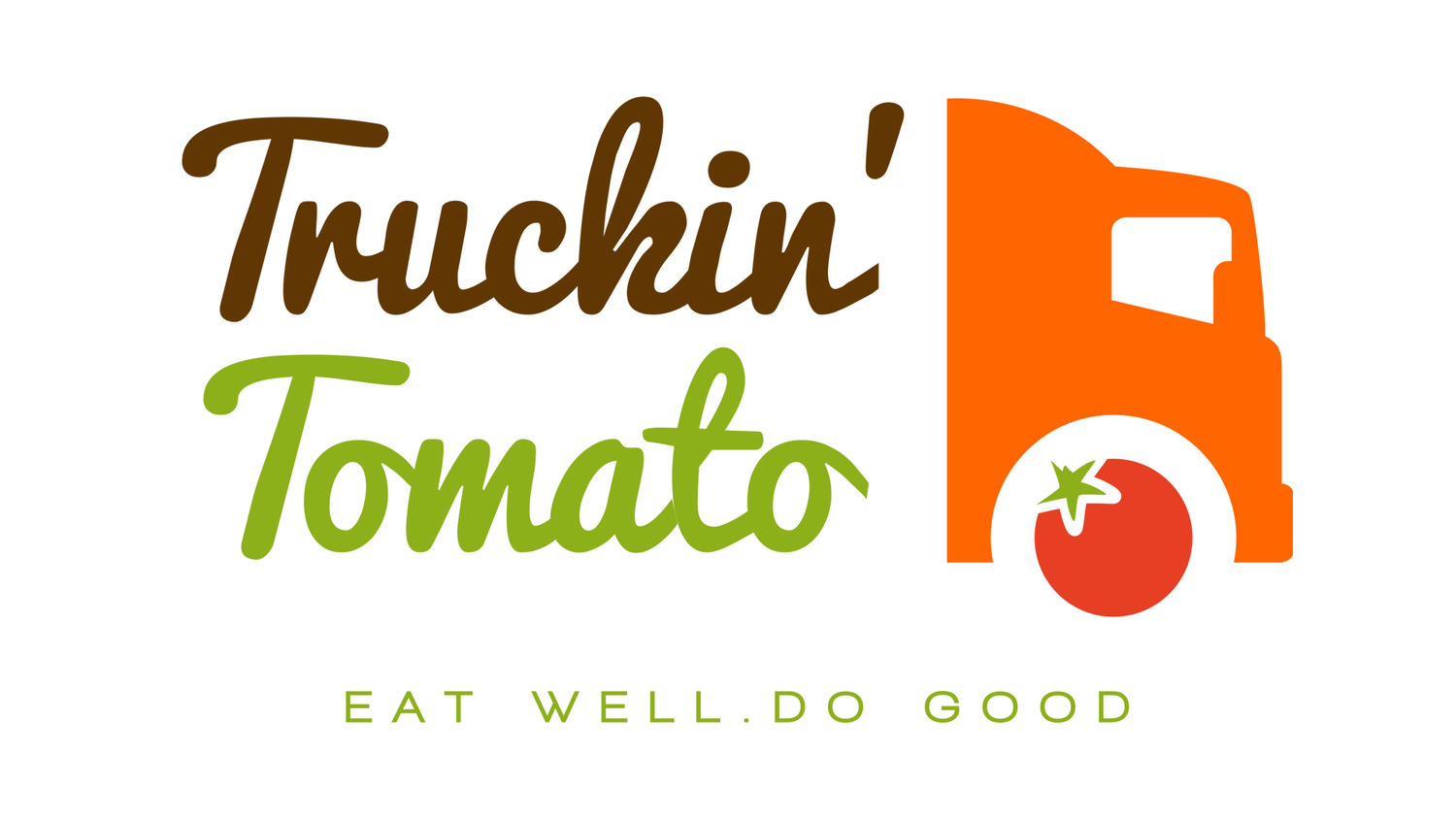 St. George Church has invited the Truckin' Tomato mobile farmer's market to visit campus on Wednesday, February 17th from 2:00-7:00 PM.  This mobile farmer's market is an innovation in the farmer's market experience that will take the shopping experience directly to the places people are densely congregated.  As you walk up to the trailer you will see large shelves full of fresh local produce,  baskets containing fruits and dry goods, and display shelves full of jams, coffee beans, honey, salsa, mixes and more.
Feel free to stop by the truck before or after carpool, on your way to the parking lot from a sports' practice, or before you head in to choir or 4H.  We've invited them to our campus to take a little crazy out of your week and to let you shop for healthy food right here! This isn't a fundraiser, just a way for us to say thank you to you! You may pre-order using the 
Truckin' Tomato website
 or just walk up and shop.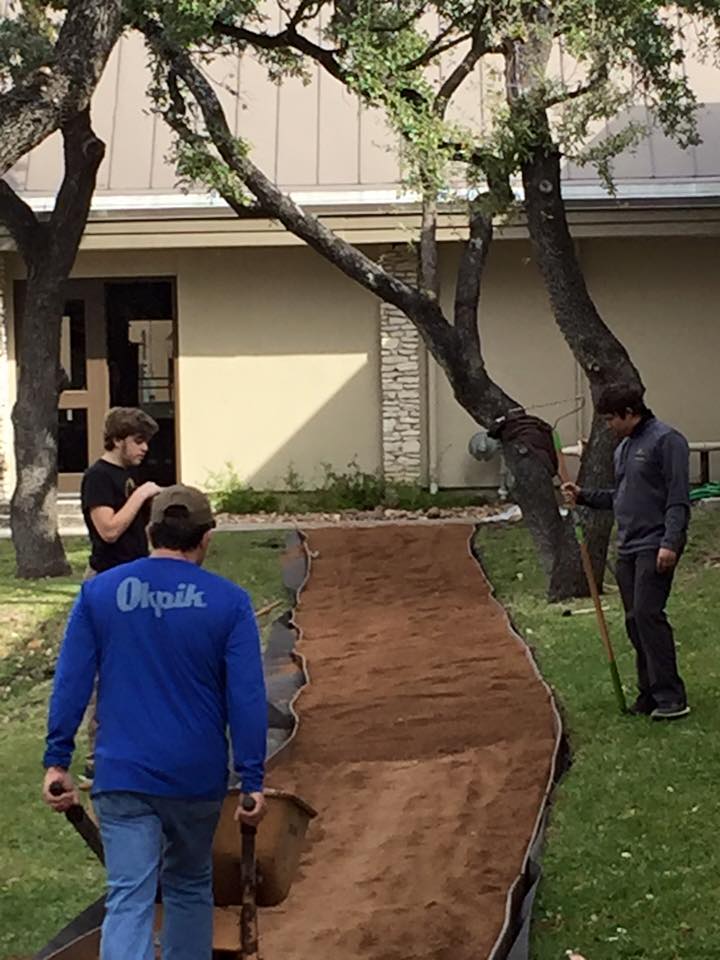 Xander Dietrich chose St. George for the site of his Eagle Scout Project.  He is creating a walkway from the Castle Lane lot to the Leadership Center for our after-hours groups to use.  His project also brings young people from the Scouts and the 4-H group that meets monthly at St. George together.    We thank Xander for thinking of us and his many helpers for their hard work on this project.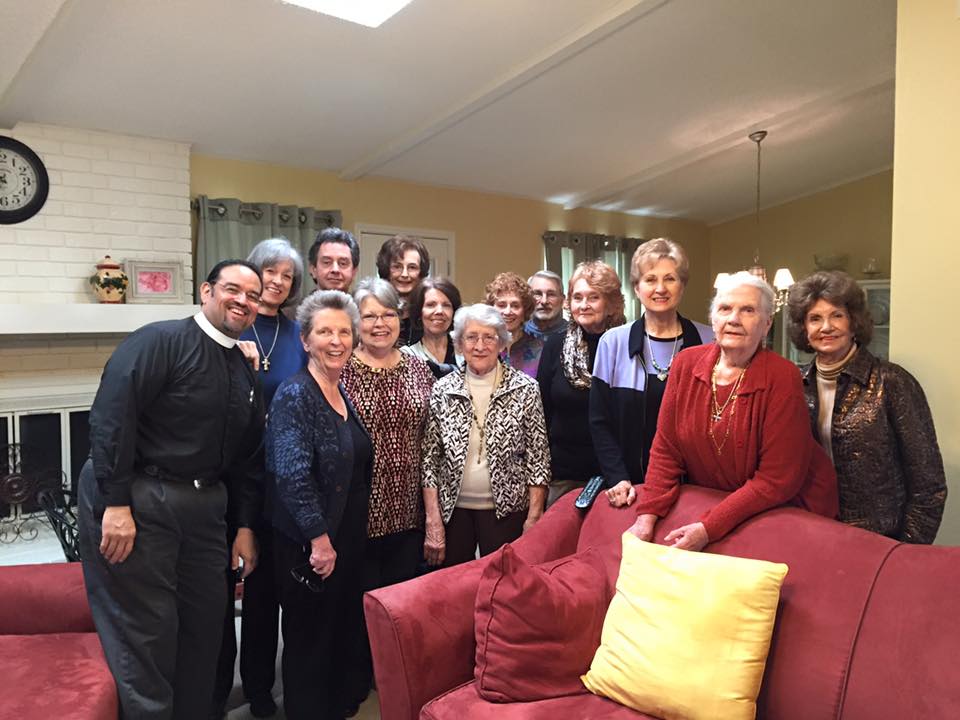 Great way to begin a full day of life at St. George!  Thanks Alana for letting us come be a part of God pouring out blessing upon you and your lovely home! House blessings are great excuses to get your friends and family together to pray and eat!  –Fr. Ram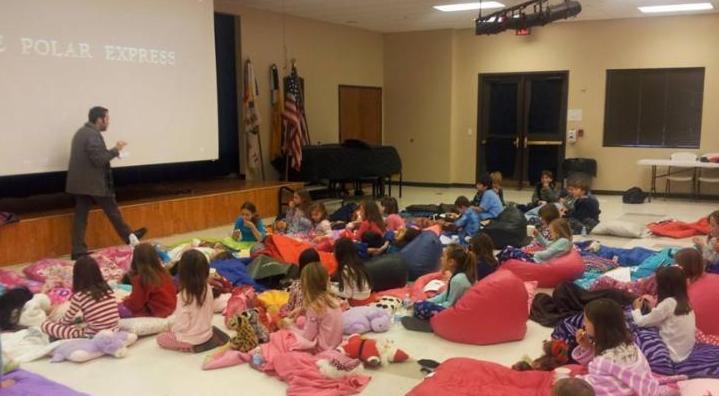 Our St. George Children served others, learned about Advent, and took a ride on the Polar Express this month.  Kids for Christ completed their "Mission Possible," where they performed acts of kindness for our Castle Hills Community.  (Click here for more).  In C3:16, children made advent wreaths with their families and received devotional readings to take home and use with their families.  Finally, church and school children enjoyed our annual Polar Express party!  Maricela Ramos, a church and school parent shared this letter about this wonderful tradition.
My daughter has participated in the Polar Express event every year for the past three years and my son began participating this year. This is something that at the age of four and six, they are still talking about one week later. The magic of the movie coupled with the magic of friends they have made at St George has created memories in their sweet little hearts. A chance to sit back, eat as much popcorn as they can handle while giggling and enjoying the idea of "Believing" was a precious moment that I will not forget, as I chose to stay and bring my own pillow and blanket. Once the movie was over, they enjoyed the holiday cookies with hot cocoa while laughing at each other's milk mustaches. The type of cookies didn't matter, what mattered was the fellowship and feeling of being connected and slowing down to enjoy the Christmas Spirit. Daniel, our Youth Ministry Leader, collected the sugar filled children and played marshmallow dodgeball with the active, silly children. Winning wasn't the object of the game, playing with food and having the older ones help the little ones was the object of Daniel's game. My children talked about it for days afterwards and look forward to creating more memories in the years to come. Thank you to St George Church, Happy Wilson and Daniel Foreman for their dedication to making this season special for all the children and adults like me, alike!
St. George extends a sincere thank you to the Kahlig Auto Group for its donation of $3000 to the Rector's Discretionary Fund to "[help] some of [our] families at Christmas"  We are grateful to Billy Vaughn, who along with his wife Susie, are wonderful and generous friends of the St. George Community.  Billy and Susie's children attended St. George School and maintain a passion for the outreach ministry done by our St. George Community.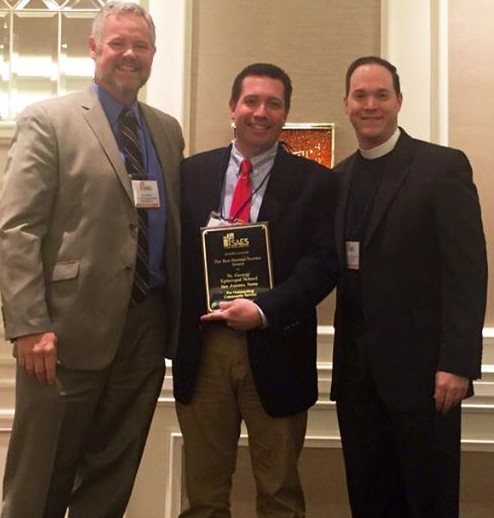 Out of 120 schools….St. George Episcopal School was named a winner of the Ken Bastian Community Service Award at the 2015 Southwestern Association of Episcopal School's Biennial Conference.
This award is presented to a member school of the Association that has established an exemplary means of encouraging students to give of themselves in some form of community service or service learning.