Grace to you and peace from God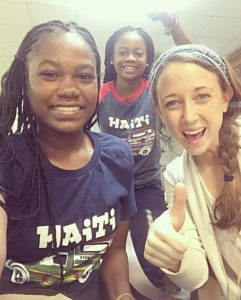 our Father and our Lord Jesus Christ. I am happy to announce that the St. George Community has called Frances Caroline "Cookie" Harris as our next Youth Minister, Sacred Studies Teacher and School Chaplain. Cookie is super excited to be joining our team and becoming a part of this community.
Cookie is a detail-oriented and gifted communicator. She has years of nonprofit administrative and leadership experience. She graduated from The University of Mississippi with a Bachelor of Elementary Education and a Master of Curriculum and Instruction. While at Ole Miss, she served as a Recruiter for the School of Education. Returning to her native San Antonio, Cookie served as Youth Director Intern for her home parish, St. Luke's Episcopal Church and School.
In 2014, Cookie felt the call of God tugging her to move to Haiti. While there she founded and directed the English as a Second Language Program for Respire Haiti in Gressier, Ouest, haiti. She also served as the lead teacher of the English Immersion Homeschool Classroom at Respire Haiti Christian School in Gressier.
While in Haiti, Cookie adopted Robi and Sherly. They are in 9th and 10th grades and are boarding at TMI-The Episcopal School of Texas. Cookie will begin her ministry at St. George mid-July. Currently, she is working very closely with Daniel Forman as they both work to ensure a smooth transition. Please join me in welcoming Cookie to the St. George Community!