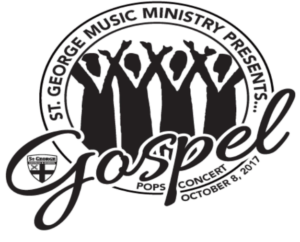 Come and relax while you listen to some wonderful music as St. George Episcopal Church's Music Ministry presents the 4th Annual Community Pops Concert! This year our theme is "Gospel," so you are sure to hear many of your favorites, old and new!  For the second year in a row we have invited some guests from our surrounding communities to come and join us.  We will be joined by the Schertz United Methodist Church choir and St. John's Episcopal Church choir from New Braunfels.  All are invited to join our St. George community for what is sure to be a fun and entertaining event for all! The concert will be on Sunday, October 8th at 5:30pm.
We will have popcorn, water and lemonade but you may bring snacks or a takeout dinner from your favorite restaurant if you'd like.  Bring your blankets and lawn chairs and relax in our beautiful courtyard.  You may want some mosquito repellent and a flashlight as well.  We'll see you there!
We are very excited to announce that we will be holding First Communion classes beginning Tuesday, October 10th from 3:15-4:15. Any child in the 1st-5th grades that has been baptized is invited to attend this 5 class series! The curriculum we will be using is modeled on the Eucharist format: We Gather (Lesson 1), We Hear the Word of God (Lesson 2), We Respond to the Word (Lesson 3), We Offer our Gifts (Lesson 4), We Celebrate  and We are Sent Out (Lesson 5). Because children learn with all their senses, activities and instruction will be included that engage them throughout each lesson.
The classes will be led by Happy Wilson in the Youth & Family Room.
The First Communion class schedule is as follows:
October 10: We Gather
October 17: We Hear the Word of God
October 24: We Respond to the Word
November 7: We Offer our Gifts
November 24: We Celebrate & We are Sent Out
TBD: First Communion
You may register your child for the First Communion classes by contacting Happy Wilson at hwilson@saintgeorgechurch.org.
Please join us on Thursday, August 31 at 7 pm for a time of prayer for all those who have been affected by Hurricane Harvey. We will gather in the Sanctuary to say the prayers of the Church, hear and respond to God's Holy Word and say our prayers. This prayer service is open to all so please feel free to invite family and friends.
Note: Parent Orientations will also be occurring on Thursday evening. Parking is available both off West Avenue and off Castle Lane including the area behind the two small houses.
Grace to you and peace from God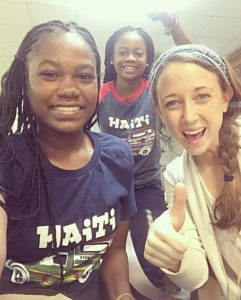 our Father and our Lord Jesus Christ. I am happy to announce that the St. George Community has called Frances Caroline "Cookie" Harris as our next Youth Minister, Sacred Studies Teacher and School Chaplain. Cookie is super excited to be joining our team and becoming a part of this community.
Cookie is a detail-oriented and gifted communicator. She has years of nonprofit administrative and leadership experience. She graduated from The University of Mississippi with a Bachelor of Elementary Education and a Master of Curriculum and Instruction. While at Ole Miss, she served as a Recruiter for the School of Education. Returning to her native San Antonio, Cookie served as Youth Director Intern for her home parish, St. Luke's Episcopal Church and School.
In 2014, Cookie felt the call of God tugging her to move to Haiti. While there she founded and directed the English as a Second Language Program for Respire Haiti in Gressier, Ouest, haiti. She also served as the lead teacher of the English Immersion Homeschool Classroom at Respire Haiti Christian School in Gressier.
While in Haiti, Cookie adopted Robi and Sherly. They are in 9th and 10th grades and are boarding at TMI-The Episcopal School of Texas. Cookie will begin her ministry at St. George mid-July. Currently, she is working very closely with Daniel Forman as they both work to ensure a smooth transition. Please join me in welcoming Cookie to the St. George Community!
Join us on the evening of Friday, June 16th at 6:00PM for a wonderful evening of praise and poetry! Come celebrate our "community o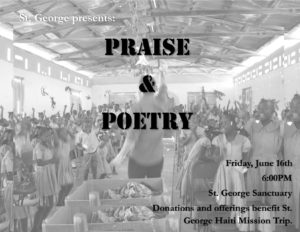 f love" as we offer songs, prayers, words, and scriptures that lift up the spirit of our mission and ministry with our brothers and sisters at St. Benoit in Mombin Crochu, Haiti. Words of Poetry will be offered by  our very own, Carol Reposa,recently named 2018 Poet Laureate of Texas, and local poet, Harold Rodinksy. Fr. Ram will also offer poetry and reflections.   All will be led in song and praise by Keith and Shannon Earle as we lift up the power of God's music in song in our lives singing of the journey that calls us into mission and what it means to be a "community of love".  Join with us this night and celebrate the upcoming trip to Haiti, where Fr. Ram Lopez, Keith Earle, and Greg Merritt will be present at St. Benoit for the dedication of the new worship space this July 11th.  Greg Merritt will also have some of his beautiful Haitian photography for purchase in the narthex.  This and all offerings taken during the event are in support of the Haiti Mission Trip happening in July. Click here to contribute before the event. Thank you to everyone who has helped already as we are on our way to raising our goal of $5,000.  Every dollar counts, and no offering is too small.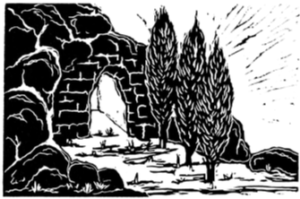 The secular world sees Easter as a one day, maybe a weekend, cultural holiday.  For liturgical Christians it is a 50 day season that ends on the Feast of Pentecost.  But what about the rest of the year?  Is Easter a day? A season? Or is it a daily way of living?
Come join Fr. Ram in exploring what it means to live as a resurrection person in the world in this new Adult Spiritual Formation offering.  Discover the tools available to you and your family to help you live an Easter life daily.  Learn about the support St. George offers you to grow as Resurrection Person.  Discover how you can support the wider St. George Community in becoming Easter People.
Class and Workshop begins Sunday, June 4th at 9:45 am in the Parish Hall.

June 4th – "The Power of the Spirit"
June 11th – "…the least of these…"
June 18th – "for the building up of the body"
June 25th – "to whom much is given"

Each class begins starts from Scripture and offers a chance for participants to do some hands-on writing and planning for their own personal Living the Easter Life Plan.


Summer of Service is back at St. George! For the months of June, July, and August, we will focus on The Good Samaritan Center, backpacks & school supplies for students in need, and our own St. George Community in-house ministries.
First up is The Good Samaritan Center. We will be creating care packages for the Good Samaritan Campers attending Camp Capers. Below is a list of suggested items you can contribute to help make up care packages for the 4 different age groups (3rd-5th grade, 6th-7th grade, 8th-9th grade, and 10th-12th grade). You can bring these supplies in anytime through June 25th and drop it off in a collection box in the Narthex or in the Leadership Center.
Playing cards/small games
Journals/pens
Flashlights
Small, personal fan (camp gets hot!)
Stickers
Small coloring books (adult and children's)
Mad-libs
Books
Water bottles
Disposable Cameras (both the regular and underwater)
Written notes
Lotion
Hand Sanitizers
Other fun toys and gadgets: fidgets, yo-yo's, etc…
*NOTE: food is not allowed due- to the critter issue it could cause
Easter Lily Envelopes are out now! Donations and descriptions for Easter Lilies are due to the Church Office by April 2nd in order to be listed in the Easter bulletin. You may also donate online via PayPal, and email your 'In thanksgiving for' or 'In memory of' names to stgeorge@saintgeorgechurch.org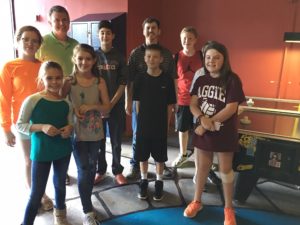 The St. George Youth took 11 kids to Laser Quest this past Sunday to enjoy some laser tag fun.  I must say that my undefeated record against my youth group kids is no longer in play as I took it on the chin as Will Wickersham ( 6th Grade ) and Sebastian Trevino ( 7th Grade ) blasted me on more than one occasion.  It's important to me that all kids who come through our program know that ALL formation does not necessarily have to take place at St. George.  Laser Tag, in very different way, is just as important as the fellowship we develop and nurture on Sunday mornings on campus.  One of the things I enjoyed most about out Laser Quest experience was my attempt at trying to connect Father Nate Bostian's sermon to my "code name" at Laser Quest.  Father Nate Bostian referenced ,in his sermon, how Jesus gets "cranky" in Matthew's Gospel, chapter 2​​3.  I promptly decided that my code name at Laser Quest was "Cranky Jesus" and I especially found it hilarious when I tagged my kids and at the end of the game it said "you have been tagged by Cranky Jesus.
What did you put on your wish list for Christmas? Did you ask for a walker because your family couldn't afford the device that would allow you to walk around your home? Did you ask for coats because no one in your family had one as winter approached? Did you ask for professional clothing because you had nothing to wear for upcoming job interviews?
Probably not. I suspect wish lists for St. George families included such things as the latest popular toys, stylish clothing, and updated technology. Most of us are fortunate enough to afford the necessities of life, but did you imagine the items above were on the wish lists of families in our own neighborhood, families whose children attend Larkspur Elementary?
As a part of their goal of year-round stewardship, the Order of the Daughters of the King at St. George agreed to adopt a Larkspur family and provide some of their wishes for Christmas. Through the generous giving of the Daughters, not only did they provide gifts for one family but eventually provided for three families with additional $50 HEB gift cards to two more families!
After Julabeth Carden had bought gifts for all the individual family members, the Daughters met on a Sunday after church to wrap all the gifts. What a joyous occasion it was as we got into the spirit of giving and listened to Julabeth tell us the amazing stories of these families. She was fortunate enough to accompany a Larkspur administrator to deliver the bounty and see many faces light up with joy.
The Daughters have pledged to collect needed articles to donate monthly to Larkspur families. Items that we take for granted such as laundry soap, socks, underwear, and snacks are above many a family budget just blocks away from us.
To hear more of the specifics of these gifts and our neighbors, come to the Annual Meeting and hear Julabeth's full report. You will surely receive a blessing!
The Annual Parish Meeting will be held on Sunday, January 29th at 9:30 AM.  Tacos, juice and coffee will be served. Childcare will be available.  For more information, click here.