Easter Lily Envelopes are out now! Donations and descriptions for Easter Lilies are due to the Church Office by April 2nd in order to be listed in the Easter bulletin. You may also donate online via PayPal, and email your 'In thanksgiving for' or 'In memory of' names to stgeorge@saintgeorgechurch.org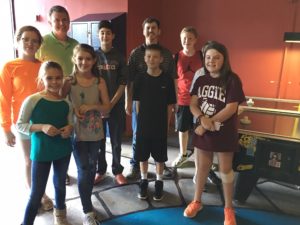 The St. George Youth took 11 kids to Laser Quest this past Sunday to enjoy some laser tag fun.  I must say that my undefeated record against my youth group kids is no longer in play as I took it on the chin as Will Wickersham ( 6th Grade ) and Sebastian Trevino ( 7th Grade ) blasted me on more than one occasion.  It's important to me that all kids who come through our program know that ALL formation does not necessarily have to take place at St. George.  Laser Tag, in very different way, is just as important as the fellowship we develop and nurture on Sunday mornings on campus.  One of the things I enjoyed most about out Laser Quest experience was my attempt at trying to connect Father Nate Bostian's sermon to my "code name" at Laser Quest.  Father Nate Bostian referenced ,in his sermon, how Jesus gets "cranky" in Matthew's Gospel, chapter 2​​3.  I promptly decided that my code name at Laser Quest was "Cranky Jesus" and I especially found it hilarious when I tagged my kids and at the end of the game it said "you have been tagged by Cranky Jesus.
What did you put on your wish list for Christmas? Did you ask for a walker because your family couldn't afford the device that would allow you to walk around your home? Did you ask for coats because no one in your family had one as winter approached? Did you ask for professional clothing because you had nothing to wear for upcoming job interviews?
Probably not. I suspect wish lists for St. George families included such things as the latest popular toys, stylish clothing, and updated technology. Most of us are fortunate enough to afford the necessities of life, but did you imagine the items above were on the wish lists of families in our own neighborhood, families whose children attend Larkspur Elementary?
As a part of their goal of year-round stewardship, the Order of the Daughters of the King at St. George agreed to adopt a Larkspur family and provide some of their wishes for Christmas. Through the generous giving of the Daughters, not only did they provide gifts for one family but eventually provided for three families with additional $50 HEB gift cards to two more families!
After Julabeth Carden had bought gifts for all the individual family members, the Daughters met on a Sunday after church to wrap all the gifts. What a joyous occasion it was as we got into the spirit of giving and listened to Julabeth tell us the amazing stories of these families. She was fortunate enough to accompany a Larkspur administrator to deliver the bounty and see many faces light up with joy.
The Daughters have pledged to collect needed articles to donate monthly to Larkspur families. Items that we take for granted such as laundry soap, socks, underwear, and snacks are above many a family budget just blocks away from us.
To hear more of the specifics of these gifts and our neighbors, come to the Annual Meeting and hear Julabeth's full report. You will surely receive a blessing!
The Annual Parish Meeting will be held on Sunday, January 29th at 9:30 AM.  Tacos, juice and coffee will be served. Childcare will be available.  For more information, click here.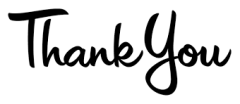 The Sunday before Thanksgiving, the Holy Spirit moved powerfully among members of St. George Church and School as we assembled 15 Dinner Boxes for families in need. The Beta Club, under the leadership of Keith Earle, had sorted hundreds of items to hasten the process. Offering this food enabled inner city clients of Christian Assistance Ministry (CAM) to celebrate our nation's precious sense of optimism, our faith in God and our gratitude for living in this wonderful country.
Together we provided whole turkeys, a wide range of canned fruits and vegetables, soup mix and cereal, loaves of bread and a pumpkin pie. Our clients, who often waited hours to see whether they would qualify, responded with tears of relief and joy—along with the knowledge that they were lovingly remembered.
Your CAM volunteers feel blessed to have your generous, enthusiastic support as we work together to help those less fortunate.
Gratefully,
Carol Molina, Paul Carr, Paul Warner, Stella and David Silva, Andy and Marti Nodine
On behalf of the St. George Community, the Beta Club, our middle school honor and service organization,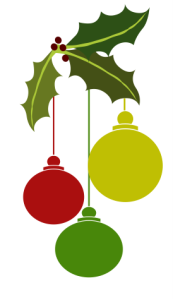 is coordinating a Christmas gift-giving project. St. George has generously participated in the Adopt A Needy Family project for over 10 years. Our goal is to help nine families have a joyous Christmas by providing a few special gifts, some Christmas decorations and items of true need. Many of the gift items are necessities such as clothing, hygiene items, linens, house-wares, space heaters and cleaning supplies.
In addition to gift sponsorship, the Beta Club would greatly appreciate donations of gift boxes, large and extra large gift bags, tissue paper, bows, ribbon and Christmas wrapping paper. These nine families also have a variety of larger needs such as bicycles, beds, microwaves, etc. If you are interested in helping or have questions, please contact the AANF Coordinators at aanfstgeorge@gmail.com.
If you would like to help, please take an ornament or two from the bulletin board that will be in the Gathering Area.  Purchase the gifts indicated on the ornament and drop them by the church office by December 1.  Please attach the paper ornament to your gift, but don't wrap the gift.  Our Beta Club Elves will wrap the gifts and make sure that they are delivered in time for Christmas.  Thank you for your giving spirit!
We wish you a blessed holiday season,
Your 2016 AANF Coordinators,
Carla Bick and Tinker Notzon
Dear St. George Family,
Yesterday, I received some news from Rob Devlin.  While in in Waco attending their son's state cross-country meet, Lynne was taken by ambulance to a local hospital with stroke symptoms. Doctors verified after arrival that she indeed had a stroke.
She is receiving ongoing treatment.  Doctors are optimistic about her prognosis. They have run tests and the results should come back to them sometime today.  It is too early to know any specifics about her condition or her future rehabilitation.  It is fair to say that she will be hospitalized a few days in Waco before plans can be made to get her transferred to San Antonio.
I invite you to pray for Lynne's healing and for peace for Rob, Taylor, Lauren and Robby.
For now, I would ask you to refer all questions to my office (email would be most efficient – rlopez@saintgeorgechurch.org).  I will provide you updates as I have the information to share.  And I will communicate your well wishes and thoughts and prayers to Rob and Lynne.  I will also communicate ways that you can support the Devlins upon their return.
Thank you for the prayers that some of you have already begun.  I can assure you that Lynne, Rob and their children can feel them.
Ram+
A few Sundays ago, Craig Loeffler shared his experiences volunteering as a Reading Buddy for San Antonio Youth Literacy.  Please listen to his story and volunteer. St. George will have a training session on Sunday, October 16 from 12:15-1:45 PM.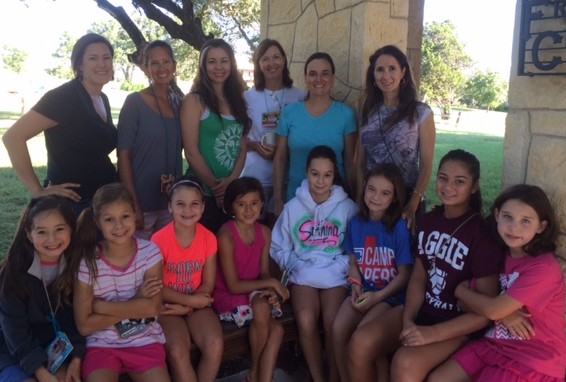 The St. George moms and daughters had a great time at Camp Caper's Mother-Daughter Weekend. We swam, cannoned, conquered the screamer, survived dodge-ball, and laughed…a lot.  We escaped the routine of our daily lives in order to focus more thoughtfully on ourselves and the joy we experience together in mother-daughter, sister-sister bonds.  We unplugged–and it was great!
Just as our relationship with God is a dynamic, evolving love that requires work, we were reminded that our relationships here on Earth can be challenging, but bring great reward when nourished. Lulled into the perceived constancy of life, it can be easy to delay joy to another day. Mother-Daughter weekend is an opportunity to literally 'stop and smell the rose' with the people we cherish most…relax…and reconnect.
-Lindsey Finklea
Everyone is invited to attend a City-wide Ecumenical Worship service which will be held on Sunday, October 2 at 5 pm at Antioch Missionary Baptist Church located at 1001 N. Walters Street.  The goal of this time of worship is to provide "comfort, hope and strength" to all those who struggle with mental illness and those who care for them.  It is also an opportunity to address the need to remove the stigma surrounding mental illness so that those who need help will reach out for help.  Last year St. George hosted this service.  For more information, email Fr. Ram (rlopez@saintgeorgechurch.org)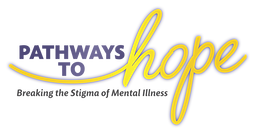 Leaders and advocates for from the greater San Antonio community gathered to discuss ways to break the stigma linked to mental illness at a conference titled "Pathways to Hope."  The conference which was free to the community was held at the Tobin Center for the Performing Arts and 1400-plus people were in attendance.  Therese Trahan-Edussuriya and Fr. Ram were in attendance.
Participants heard from local and state politicians, medical professionals who treat those with mental illness, ordained and lay church leaders and others.  Kay Warren, wife of Saddleback Community Church founding pastor, Rick Warren ("40 Days" author) spoke eloquently about the importance of local churches taking the lead on helping those who suffer from mental illness and their families.  Robert Emmet, founding pastor of Community Bible Church in San Antonio, also shared his experience with depression and the way his faith, along with medical and psychological professionals, brought him through it.
Fr. Ram participated in a panel discussion alongside other clergy who have experience with mental health issues and serving those with good mental illness through ministries in their local church.  Video of all the speakers and panel discussions can be found at this link.
St. George has a long history of ministering to those with mental illness and their families.  This ministry was birthed here by Jerry and Betty Fulenwider, both now deceased, whose tireless advocacy of fighting the stigma surrounding mental illness resulted in NAMI Family to Family classes which served both church members and those in the wider community.
Future plans include the re-institution of mental health ministries at St. George.  More information will be shared as plans are formed.  "It is crucial," said Fr. Ram, "that we restart our mental health ministries.  As we heard over and over at the conference, stigma has to be broken if people are to find the help needed to find health through proper management of their mental illness.  Medical and therapeutic intervention and the support of a faith community can bring about health and fullness of life to those who suffer.  Stigma kills.  And we, the Church, are in the position to help people.  The Church is called to be a partner with Christ Jesus in the healing of those who suffer."
If you are currently in need of support as you or a loved one struggles with mental illness, please reach out to our Pastoral Care Director, Marilynne Herbster, or Therese, who is one of our Community of Hope chaplains, or Fr. Ram.
Therese writes-
As Father Ram has stated, stigma kills. This may sound like a dramatic overstatement, but most people are so afraid of being judged or treated differently that they fail to seek the help they need, and thus suffer in silence.  In many cases, the torture of stigma leads to suicide. We, the Church, can educate ourselves and others, removing misconceptions, and offering compassion as well as practical assistance to those who are affected by mental illness.  As the conference's keynote speaker, Kay Warren, shared, we all need a place where we don't have to whisper, where we don't have to pretend. The leadership of St. George is committed to providing such a place for us all, but it takes every one of us to truly be successful. The good news is that it doesn't require any effort or special training, just the willingness to be a friend.  "In everything, do to others as you would have them do to you." – Matthew 7:12
~Therese