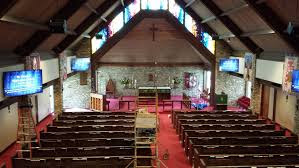 Gene Rachels came to visit St. George one Sunday; Paul and Peggy Foerster invited him to lunch, and he knew he had found his church home. Having retired from the military, he adopted San Antonio as his home and was happy to find a church where he felt welcome immediately.
Gene didn't just attend on Sundays – he volunteered for a number of positions, most notably greeter. He was the quintessential greeter who always had a smile on his face and a kind word for everyone. He would ask about your family and love waiting to hear the answers. Not only was he a greeter, we was also an Office Angel, regularly stuffing Sunday bulletins and preparing packets for our shut-ins. He was active in Jerry Fulenwider's men's group too.
Sadly, Gene began a fierce battle with cancer, but when he was able, he was in attendance at St. George. The battle was one of ups and downs as he improved and declined a number of times, but never did his smile or his grace leave him, even at his sickest. Upon his death, Gene received a glorious send off to heaven in a Ft. Sam Houston military funeral. As I watched the funeral, I had to smile and think of how it suited him so well.
Sometime later we were notified that Gene had left a bequest in his will for St. George. Imagine everyone's surprise to hear that that bequest totaled $60,000. I can imagine his smiling face as he anticipated the surprise of his church family.
The timing of the bequest was serendipitous as it came just after the new Leadership Center was opened. Immediately Ram donated $10,000 to the camp scholarship fund because of Gene's love for children and children's ministries. Additionally, Gene's generosity paid for the refurbishment of the sanctuary to match the other new campus buildings, including new flooring, new paint, kneelers, pew pads, pew refinishing, Bibles, Prayer Books, and more. The renovation of the bathrooms across from the parish hall was celebrated by all. Finally Gene's largesse paid for the Adirondack chairs on the patio of the Leadership Center. It just so happened that the Head of School Rob Devlin and Father Ram were standing on the patio one day looking over the beauty of the courtyard, discussing how the patio needed comfortable chairs for enjoying the scenery and engaging in peaceful conversations. Thus Gene's money provided those chairs.
The beauty of the way in which Gene's bequest was used is how he was represented in the choices. He was a greeter and a loyal Sunday parishioner, he loved children, and he loved conversations with those in his church family. We can all thank him every Sunday when we see his gifts and know the heart he had for St. George and its people.
Written by Pam Piedfort with thanks to Haley Bankey for remembering the details