Talkin' St. George:  Our New Member Course
What does it mean to be a member of the Episcopal Church? What does it mean to join St. George? Our New Member Courses are designed to be a simple meet and conversation time that will connect you with others who are new to St. George, possibly new to the Episcopal faith, and answer your questions regarding the faith. These classes are set throughout the year and are a great way to find a deeper connection to life at St. George. For more information, contact the church office at stgeorge@saintgeorgechurch.org.
Safeguarding God's Children
St. George Episcopal Church and the Diocese of West Texas are committed to ensuring that all who attend our Worship services and events are safe and treated with the utmost in dignity. We proudly offer the Safeguarding God's Children course to all volunteers who interact with children and youth here at St. George. This course is held periodically throughout the year and is a cornerstone to Children & Family Ministries. Our trainer is Kelley Clifford via Happy Wilson at hwilson@saintgeorgechurch.org for information about our class schedule.
Have questions or want more information?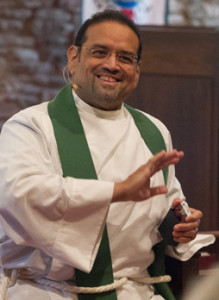 Rector
Ram Lopez-