Grace to you and peace from God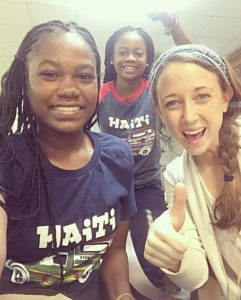 our Father and our Lord Jesus Christ. I am happy to announce that the St. George Community has called Frances Caroline "Cookie" Harris as our next Youth Minister, Sacred Studies Teacher and School Chaplain. Cookie is super excited to be joining our team and becoming a part of this community.
Cookie is a detail-oriented and gifted communicator. She has years of nonprofit administrative and leadership experience. She graduated from The University of Mississippi with a Bachelor of Elementary Education and a Master of Curriculum and Instruction. While at Ole Miss, she served as a Recruiter for the School of Education. Returning to her native San Antonio, Cookie served as Youth Director Intern for her home parish, St. Luke's Episcopal Church and School.
In 2014, Cookie felt the call of God tugging her to move to Haiti. While there she founded and directed the English as a Second Language Program for Respire Haiti in Gressier, Ouest, haiti. She also served as the lead teacher of the English Immersion Homeschool Classroom at Respire Haiti Christian School in Gressier.
While in Haiti, Cookie adopted Robi and Sherly. They are in 9th and 10th grades and are boarding at TMI-The Episcopal School of Texas. Cookie will begin her ministry at St. George mid-July. Currently, she is working very closely with Daniel Forman as they both work to ensure a smooth transition. Please join me in welcoming Cookie to the St. George Community!
Join us on the evening of Friday, June 16th at 6:00PM for a wonderful evening of praise and poetry! Come celebrate our "community o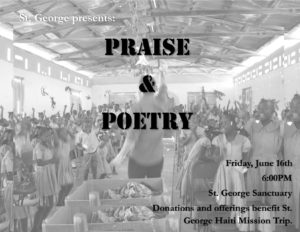 f love" as we offer songs, prayers, words, and scriptures that lift up the spirit of our mission and ministry with our brothers and sisters at St. Benoit in Mombin Crochu, Haiti. Words of Poetry will be offered by  our very own, Carol Reposa,recently named 2018 Poet Laureate of Texas, and local poet, Harold Rodinksy. Fr. Ram will also offer poetry and reflections.   All will be led in song and praise by Keith and Shannon Earle as we lift up the power of God's music in song in our lives singing of the journey that calls us into mission and what it means to be a "community of love".  Join with us this night and celebrate the upcoming trip to Haiti, where Fr. Ram Lopez, Keith Earle, and Greg Merritt will be present at St. Benoit for the dedication of the new worship space this July 11th.  Greg Merritt will also have some of his beautiful Haitian photography for purchase in the narthex.  This and all offerings taken during the event are in support of the Haiti Mission Trip happening in July. Click here to contribute before the event. Thank you to everyone who has helped already as we are on our way to raising our goal of $5,000.  Every dollar counts, and no offering is too small.