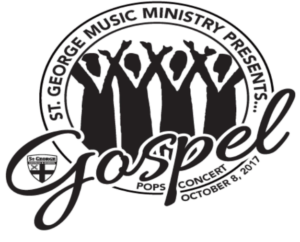 Come and relax while you listen to some wonderful music as St. George Episcopal Church's Music Ministry presents the 4th Annual Community Pops Concert! This year our theme is "Gospel," so you are sure to hear many of your favorites, old and new!  For the second year in a row we have invited some guests from our surrounding communities to come and join us.  We will be joined by the Schertz United Methodist Church choir and St. John's Episcopal Church choir from New Braunfels.  All are invited to join our St. George community for what is sure to be a fun and entertaining event for all! The concert will be on Sunday, October 8th at 5:30pm.
We will have popcorn, water and lemonade but you may bring snacks or a takeout dinner from your favorite restaurant if you'd like.  Bring your blankets and lawn chairs and relax in our beautiful courtyard.  You may want some mosquito repellent and a flashlight as well.  We'll see you there!
We are very excited to announce that we will be holding First Communion classes beginning Tuesday, October 10th from 3:15-4:15. Any child in the 1st-5th grades that has been baptized is invited to attend this 5 class series! The curriculum we will be using is modeled on the Eucharist format: We Gather (Lesson 1), We Hear the Word of God (Lesson 2), We Respond to the Word (Lesson 3), We Offer our Gifts (Lesson 4), We Celebrate  and We are Sent Out (Lesson 5). Because children learn with all their senses, activities and instruction will be included that engage them throughout each lesson.
The classes will be led by Happy Wilson in the Youth & Family Room.
The First Communion class schedule is as follows:
October 10: We Gather
October 17: We Hear the Word of God
October 24: We Respond to the Word
November 7: We Offer our Gifts
November 24: We Celebrate & We are Sent Out
TBD: First Communion
You may register your child for the First Communion classes by contacting Happy Wilson at hwilson@saintgeorgechurch.org.
Please join us on Thursday, August 31 at 7 pm for a time of prayer for all those who have been affected by Hurricane Harvey. We will gather in the Sanctuary to say the prayers of the Church, hear and respond to God's Holy Word and say our prayers. This prayer service is open to all so please feel free to invite family and friends.
Note: Parent Orientations will also be occurring on Thursday evening. Parking is available both off West Avenue and off Castle Lane including the area behind the two small houses.
Dear St. George Family:
This is a reminder to you that tomorrow, Sunday, August 27th, St. George will have ONE SERVICE of Holy Eucharist at 10 am. There will be no other regularly scheduled activities held.
As you are no doubt aware, many residents in the Coastal Bend area have sustained devastating damage due to Hurricane Harvey. Information continues to slowly emerge through various news media avenues – much of it disheartening. Many of those affected are our own family members and friends. Please keep all those affected by this massive storm in your fervent prayers.
Please continue to monitor the local weather conditions. Large amounts of rain totals and widespread flooding continue to be in the forecast. Your physical safety, and the safety of your loved ones, is my primary concern. So please, if you are in doubt, err on the side of caution. Below you will find a link to the City of San Antonio website where you can see emergency street closures.
I have also provided the link to the Diocese of West Texas website. There you can find an up-to-date section of ongoing developments as the diocese responds to Hurricane Harvey and to make a financial donation for relief efforts during and after the storm.
May God bless you and those whom you love this day and always.
Peace,
Ram+
San Antonio Road Closures:
http://www.sanantonio.gov/Public-…/Emergency-Street-Closures
Episcopal Diocese of West Texas:
http://www.dwtx.org/
Dear beloved in Christ:
You are all by now aware that the weather this weekend is going to be severely affected by now Hurricane Harvey.  Weather forecasters are warning that it will likely intensify to category 3 by the time it makes landfall late tomorrow or early 
Saturday
.  Bexar county is included in a number of severe weather warnings and watches being issued by the National Weather Service.
Local rainfall estimates may be potentially dangerous and flooding will be an issue.  I am certain that many of you have family and friends who may evacuate to San Antonio.  Helping your family and friends and tending to other pressing matters brought on by the weather will, rightly, be your main concern.
Therefore, in consideration of all this and to ensure the safety of you and your family, I am going to make the following changes for 
this Sunday
:
1.  
The Blessing of the Backpacks and Educators will be rescheduled to 

Sunday, September 10th

.
  We want to make sure that everyone has the opportunity to celebrate Back to School time safely.
2.  
There will be only ONE SERVICE 

this Sunday

 at 

10 am

.
  I want to make sure that everyone has time to ensure safe travel to worship.  All other 
Sunday
 morning activities will be cancelled.
I will keep you posted as things develop.
Please join me in praying for all those in the path of Harvey and for those who love them:
Most loving Father, whose will it is for us to give thanks for all things, to fear nothing but the loss of you, and to cast all our care on you who care for us:  Preserve us from all fears and worldly anxieties, that no clouds of this mortal life may hid from us the light of your gracious love.  Be with all those who are in the path of Hurricane Harvey and shield them from harm.  Strengthen us all to respond to those who will need our help in the storms aftermath; through Jesus Christ our Lord, who with You and the Holy Spirit live and reign for ever.  Amen.
Peace,
Ram+