Join us on the evening of Friday, June 16th at 6:00PM for a wonderful evening of praise and poetry! Come celebrate our "community o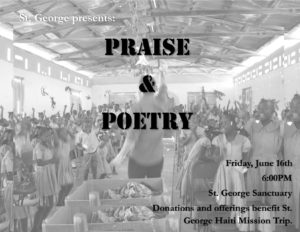 f love" as we offer songs, prayers, words, and scriptures that lift up the spirit of our mission and ministry with our brothers and sisters at St. Benoit in Mombin Crochu, Haiti. Words of Poetry will be offered by  our very own, Carol Reposa,recently named 2018 Poet Laureate of Texas, and local poet, Harold Rodinksy. Fr. Ram will also offer poetry and reflections.   All will be led in song and praise by Keith and Shannon Earle as we lift up the power of God's music in song in our lives singing of the journey that calls us into mission and what it means to be a "community of love".  Join with us this night and celebrate the upcoming trip to Haiti, where Fr. Ram Lopez, Keith Earle, and Greg Merritt will be present at St. Benoit for the dedication of the new worship space this July 11th.  Greg Merritt will also have some of his beautiful Haitian photography for purchase in the narthex.  This and all offerings taken during the event are in support of the Haiti Mission Trip happening in July. Click here to contribute before the event. Thank you to everyone who has helped already as we are on our way to raising our goal of $5,000.  Every dollar counts, and no offering is too small.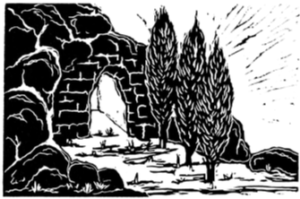 The secular world sees Easter as a one day, maybe a weekend, cultural holiday.  For liturgical Christians it is a 50 day season that ends on the Feast of Pentecost.  But what about the rest of the year?  Is Easter a day? A season? Or is it a daily way of living?
Come join Fr. Ram in exploring what it means to live as a resurrection person in the world in this new Adult Spiritual Formation offering.  Discover the tools available to you and your family to help you live an Easter life daily.  Learn about the support St. George offers you to grow as Resurrection Person.  Discover how you can support the wider St. George Community in becoming Easter People.
Class and Workshop begins Sunday, June 4th at 9:45 am in the Parish Hall.

June 4th – "The Power of the Spirit"
June 11th – "…the least of these…"
June 18th – "for the building up of the body"
June 25th – "to whom much is given"

Each class begins starts from Scripture and offers a chance for participants to do some hands-on writing and planning for their own personal Living the Easter Life Plan.


Summer of Service is back at St. George! For the months of June, July, and August, we will focus on The Good Samaritan Center, backpacks & school supplies for students in need, and our own St. George Community in-house ministries.
First up is The Good Samaritan Center. We will be creating care packages for the Good Samaritan Campers attending Camp Capers. Below is a list of suggested items you can contribute to help make up care packages for the 4 different age groups (3rd-5th grade, 6th-7th grade, 8th-9th grade, and 10th-12th grade). You can bring these supplies in anytime through June 25th and drop it off in a collection box in the Narthex or in the Leadership Center.
Playing cards/small games
Journals/pens
Flashlights
Small, personal fan (camp gets hot!)
Stickers
Small coloring books (adult and children's)
Mad-libs
Books
Water bottles
Disposable Cameras (both the regular and underwater)
Written notes
Lotion
Hand Sanitizers
Other fun toys and gadgets: fidgets, yo-yo's, etc…
*NOTE: food is not allowed due- to the critter issue it could cause