Dear beloved in Christ:
You are all by now aware that the weather this weekend is going to be severely affected by now Hurricane Harvey.  Weather forecasters are warning that it will likely intensify to category 3 by the time it makes landfall late tomorrow or early 
Saturday
.  Bexar county is included in a number of severe weather warnings and watches being issued by the National Weather Service.
Local rainfall estimates may be potentially dangerous and flooding will be an issue.  I am certain that many of you have family and friends who may evacuate to San Antonio.  Helping your family and friends and tending to other pressing matters brought on by the weather will, rightly, be your main concern.
Therefore, in consideration of all this and to ensure the safety of you and your family, I am going to make the following changes for 
this Sunday
:
1.  
The Blessing of the Backpacks and Educators will be rescheduled to 

Sunday, September 10th

.
  We want to make sure that everyone has the opportunity to celebrate Back to School time safely.
2.  
There will be only ONE SERVICE 

this Sunday

 at 

10 am

.
  I want to make sure that everyone has time to ensure safe travel to worship.  All other 
Sunday
 morning activities will be cancelled.
I will keep you posted as things develop.
Please join me in praying for all those in the path of Harvey and for those who love them:
Most loving Father, whose will it is for us to give thanks for all things, to fear nothing but the loss of you, and to cast all our care on you who care for us:  Preserve us from all fears and worldly anxieties, that no clouds of this mortal life may hid from us the light of your gracious love.  Be with all those who are in the path of Hurricane Harvey and shield them from harm.  Strengthen us all to respond to those who will need our help in the storms aftermath; through Jesus Christ our Lord, who with You and the Holy Spirit live and reign for ever.  Amen.
Peace,
Ram+
Grace to you and peace from God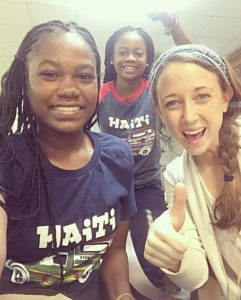 our Father and our Lord Jesus Christ. I am happy to announce that the St. George Community has called Frances Caroline "Cookie" Harris as our next Youth Minister, Sacred Studies Teacher and School Chaplain. Cookie is super excited to be joining our team and becoming a part of this community.
Cookie is a detail-oriented and gifted communicator. She has years of nonprofit administrative and leadership experience. She graduated from The University of Mississippi with a Bachelor of Elementary Education and a Master of Curriculum and Instruction. While at Ole Miss, she served as a Recruiter for the School of Education. Returning to her native San Antonio, Cookie served as Youth Director Intern for her home parish, St. Luke's Episcopal Church and School.
In 2014, Cookie felt the call of God tugging her to move to Haiti. While there she founded and directed the English as a Second Language Program for Respire Haiti in Gressier, Ouest, haiti. She also served as the lead teacher of the English Immersion Homeschool Classroom at Respire Haiti Christian School in Gressier.
While in Haiti, Cookie adopted Robi and Sherly. They are in 9th and 10th grades and are boarding at TMI-The Episcopal School of Texas. Cookie will begin her ministry at St. George mid-July. Currently, she is working very closely with Daniel Forman as they both work to ensure a smooth transition. Please join me in welcoming Cookie to the St. George Community!