Please join us on Thursday, August 31 at 7 pm for a time of prayer for all those who have been affected by Hurricane Harvey. We will gather in the Sanctuary to say the prayers of the Church, hear and respond to God's Holy Word and say our prayers. This prayer service is open to all so please feel free to invite family and friends.
Note: Parent Orientations will also be occurring on Thursday evening. Parking is available both off West Avenue and off Castle Lane including the area behind the two small houses.
Dear St. George Family:
This is a reminder to you that tomorrow, Sunday, August 27th, St. George will have ONE SERVICE of Holy Eucharist at 10 am. There will be no other regularly scheduled activities held.
As you are no doubt aware, many residents in the Coastal Bend area have sustained devastating damage due to Hurricane Harvey. Information continues to slowly emerge through various news media avenues – much of it disheartening. Many of those affected are our own family members and friends. Please keep all those affected by this massive storm in your fervent prayers.
Please continue to monitor the local weather conditions. Large amounts of rain totals and widespread flooding continue to be in the forecast. Your physical safety, and the safety of your loved ones, is my primary concern. So please, if you are in doubt, err on the side of caution. Below you will find a link to the City of San Antonio website where you can see emergency street closures.
I have also provided the link to the Diocese of West Texas website. There you can find an up-to-date section of ongoing developments as the diocese responds to Hurricane Harvey and to make a financial donation for relief efforts during and after the storm.
May God bless you and those whom you love this day and always.
Peace,
Ram+
San Antonio Road Closures:
http://www.sanantonio.gov/Public-…/Emergency-Street-Closures
Episcopal Diocese of West Texas:
http://www.dwtx.org/
Dear beloved in Christ:
You are all by now aware that the weather this weekend is going to be severely affected by now Hurricane Harvey.  Weather forecasters are warning that it will likely intensify to category 3 by the time it makes landfall late tomorrow or early 
Saturday
.  Bexar county is included in a number of severe weather warnings and watches being issued by the National Weather Service.
Local rainfall estimates may be potentially dangerous and flooding will be an issue.  I am certain that many of you have family and friends who may evacuate to San Antonio.  Helping your family and friends and tending to other pressing matters brought on by the weather will, rightly, be your main concern.
Therefore, in consideration of all this and to ensure the safety of you and your family, I am going to make the following changes for 
this Sunday
:
1.  
The Blessing of the Backpacks and Educators will be rescheduled to 

Sunday, September 10th

.
  We want to make sure that everyone has the opportunity to celebrate Back to School time safely.
2.  
There will be only ONE SERVICE 

this Sunday

 at 

10 am

.
  I want to make sure that everyone has time to ensure safe travel to worship.  All other 
Sunday
 morning activities will be cancelled.
I will keep you posted as things develop.
Please join me in praying for all those in the path of Harvey and for those who love them:
Most loving Father, whose will it is for us to give thanks for all things, to fear nothing but the loss of you, and to cast all our care on you who care for us:  Preserve us from all fears and worldly anxieties, that no clouds of this mortal life may hid from us the light of your gracious love.  Be with all those who are in the path of Hurricane Harvey and shield them from harm.  Strengthen us all to respond to those who will need our help in the storms aftermath; through Jesus Christ our Lord, who with You and the Holy Spirit live and reign for ever.  Amen.
Peace,
Ram+
Grace to you and peace from God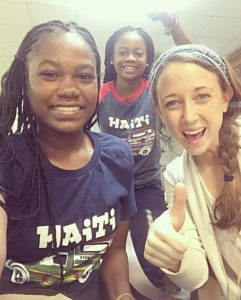 our Father and our Lord Jesus Christ. I am happy to announce that the St. George Community has called Frances Caroline "Cookie" Harris as our next Youth Minister, Sacred Studies Teacher and School Chaplain. Cookie is super excited to be joining our team and becoming a part of this community.
Cookie is a detail-oriented and gifted communicator. She has years of nonprofit administrative and leadership experience. She graduated from The University of Mississippi with a Bachelor of Elementary Education and a Master of Curriculum and Instruction. While at Ole Miss, she served as a Recruiter for the School of Education. Returning to her native San Antonio, Cookie served as Youth Director Intern for her home parish, St. Luke's Episcopal Church and School.
In 2014, Cookie felt the call of God tugging her to move to Haiti. While there she founded and directed the English as a Second Language Program for Respire Haiti in Gressier, Ouest, haiti. She also served as the lead teacher of the English Immersion Homeschool Classroom at Respire Haiti Christian School in Gressier.
While in Haiti, Cookie adopted Robi and Sherly. They are in 9th and 10th grades and are boarding at TMI-The Episcopal School of Texas. Cookie will begin her ministry at St. George mid-July. Currently, she is working very closely with Daniel Forman as they both work to ensure a smooth transition. Please join me in welcoming Cookie to the St. George Community!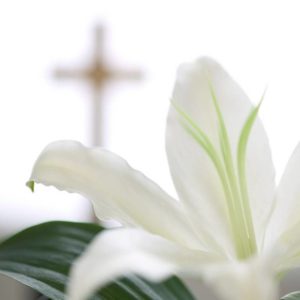 Dear St. George Family:
I want to invite you and your loved ones to be a part of our Easter Sunday festivities.
Worship on this high feast day of the Church will be at 8:30 am and 10:45 am.  In between services we will have an Easter Brunch, Easter Egg hunts (by age) for all the children; and the Flowering of the Cross (symbol of the new life that bursts forth in the world at Jesus' resurrection).
I will offer an Easter Message at both services and adhere to my yearly practice of inviting the children forward to participate in the sermon at 10:45 am.
I also invite you to attend our Holy Week services:
Maundy

Thursday, April 13 at 6:30 pm

Good

Friday, April 14 at noon and 6:30 pm

Holy

Saturday, April 15 at 9:30 am

 (refreshments will be offered to all who come and stay to help the Altar Guild decorate the Church for Easter Sunday)
Kendra, Christopher and John Michael look forward to being with you and your loved ones this Easter.  Come and worship the One whose Resurrected Life has the Power to change your life and the life of the World!!!
Peace,
Ram+
Please join us for Holy Eucharist on 4:00 on New Year's Day, and stay for…
Rector's Black-eyed Pea Throwdown Challenge!!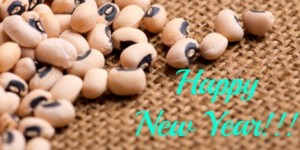 Fr Ram will be cooking up a batch of his black-eyed peas to share after the 4 pm Holy Eucharist on New Year's Day afternoon.  All you cooks are invited to boil up some peas and bring 'em out for all God's people to sample!
Everyone else is invited to bring their favorite New Year's Day snacks (cheese trays, tamales, relish trays – you name it) and we will enjoy fellowship and start the year with Jesus and each other.
Black-eyed pea cooks:  Please email our Director of Operations and Management, Maricela Graciano-Ramos (mgracianoramos@saintgeorgechurch.org) so we will have a place to plug in your crock pot.  Small serving cups and spoons will be provided so that you can share your culinary artistry!
December, 2016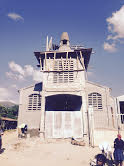 Merry Christmas to our brothers and sisters at St. Benoit! This week we sent a gift package to our sister community in Haiti, St. Benoit.  Included in this gift were school supplies, printing supplies, homemade pencil pouches from last year's 5th grade, some soccer balls, and even some Chain of Love shirts to share with the children and community.  A loving donation of a Communion set to the church was included in the gift, as noted in Fr. Ram's letter to our friends below.  Construction of the new church is developing nicely and the building will be ready soon with the scheduled dedication to take place on the feast of St. Benedict this year! Please keep our brothers and sisters in your thoughts and prayers as we move through this season and remember how our prayers and love help sustain this beautiful partnership.
-Keith Earle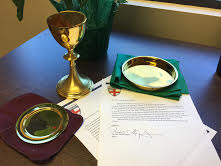 Fr. Ram's Note:
Dear Sisters and Brothers in Christ:
Grace to you and peace from God our Father and the Lord Jesus Christ.
Your friends at St. George are sending you a chalice and paten that came to us some years back.  It is what is left of a United States Army Chaplain Communion set.  While we do not know its history, the set was commissioned to serve those engaged in carrying out various missions.
As I reflect on this initial intent I am aware that once again these vessels will be once again used to serve those on a mission.  In this case, a Kingdom of God mission to proclaim the resurrection hope and life of Jesus Christ to all people.  And we both share in this most important mission of all to seek and serve Christ in all persons.  May this chalice and paten be a sign between of us of our continuing friendship and support of each other's mission and ministry to the glory of God.
May God grow our partnership and may we be blessed to share the blessing of God to us – His only Son.
Faithfully,
The Rev. Ramiro López
Dear Friends in Christ,
Life at St. George is vibrant and moving!  God's Spirit is roaming freely tending and shaping our common life!
I want to share some dates with you so that you can circle them on your calendars.  Some of these dates represent changes to previous calendars.  So where there is a conflict with older calendars, please use these dates instead.  And look for articles that will give more detail.
October 30 – Promise Plan Ingathering at both worship times followed a Picnic on the Green with opportunities to have some All Hallows' Eve fun with our children.
November 6 – Sunday after All Saints' Day with Holy Baptisms and Daughters of the King Corporate Communion.
November 13 – Bishop Robert Hibbs, retired Suffragan, for Adult Confirmation, Reception and Renewal of Baptismal Vows.
November 20 – St. George Community Thanksgiving Celebration with turkeys courtesy of our Dragonslayers Men's Group to complement your favorite Thanksgiving side dish or dessert.
November 27 – First Sunday of Advent and blessing of our new Advent Altar hangings and accouterments.
Please read your eSpear and Sunday bulletin closely.  There are many opportunities for each one of us to grow closer to God and to one another in Christ Jesus.
Many blessings abound here at St. George!
Ram+
'…you will receive power when the Holy Spirit has come upon you, and you will be my witnesses…to the end of the earth." (Acts 1.8, ESV)
Right before the resurrected Jesus ascended to the "right hand of the Father" he promised his apostles that they would not be left alone. Soon, they were to experience the outpouring of the Holy Spirit and each were to embark on a mission that would literally change the course of history.
This outpouring of the Spirit both instilled powerful gifts for ministry and enhanced gifts still unused and undeveloped. Yet once those gifts were unleashed a powerful movement began among the people they encountered as they traveled. Today we look upon that day, the Feast of Pentecost—the day when the Holy Spirit birthed a people who shared their spiritual gifts with others—and we consider that day the birthday of the Church.
The birth of the Church coincides with the unleashing of people, empowered to use their own gifts and talents to proclaim the Good News of Jesus.
My leadership team and I have had much conversation with various leaders in our many ministries. One of the common themes is the difficulty of attracting new volunteers. Likewise, we have had conversations with those who are new to St. George.  A common obstacle is the challenge of serving, especially among those with significant time commitments or younger children.  Being scheduled on a recurring rotation monthly can be daunting when one is new to a ministry.
Obviously this presents quite the conundrum.
As we have pondered these conversations, it has become increasingly clear that we need to shift our thinking from volunteer recruitment to ministry training. This is important so that we can reclaim our identity as The Church—that is, the "unleashed people of God, empowered to use their spiritual gifts and talents to proclaim the Good News of Jesus."
At St. George, you will find numerous opportunities for you and your loved ones to be people of action through our Summer of Service. Those opportunities range from backpack stuffing to helping during our Vacation Bible School (VBS). Additionally, with summer travel upon us we will have some openings in some of our Sunday morning ministries, most notably in our Greeter Ministry. Please look over all the opportunities that are available to you to see which one(s) grab your attention and then go and serve.
The other side of the coin is that I will be asking all of our ministry leaders to find appropriate, flexible opportunities for all St. George Community members, especially those new to serving, to sign up to serve in ministry here in a way that fits their schedule. If you are new to serving in the congregation or are considering serving, please know how much you and your gift of time and talent are appreciated. If you would like to participate in a simple, yet highly transformative, Sunday morning ministry come to one of the Greeters' tables on either end of the worship space and parish hall. You could make a big change in someone's life just by smiling and saying "Good morning!"[1]
This coming Sunday, sign up sheets will be available in your bulletins for you to offer your time this summer and beyond. We are being called and empowered to be a people of ACTION. I invite you to answer that call from God and share how you can serve here at St. George, in the surrounding community and in the world. May God unleash us through the gift of the Holy Spirit and may we use our gifts to be people of Good News at all times!
Faithfully,
Fr. Ram+
[1] Please note that the Lector and Lay Eucharistic ministry is a bit more complicated in terms of getting on the schedule since these ministries are licensed by the Bishop's Office. But their leaders are always eager to welcome, train and unleash new servants!