Friends in Christ:
Grace to you and peace from God our Father and the Lord Jesus Christ.
As we are all aware, the Covid-19 Delta variant is filling up our area hospitals with critically ill patients. This week's reported test positivity rate sits slightly above 21%. We are once again in the midst of another surge.
In a few Episcopal churches in our Diocese, their leadership has moved to require masks for those attending worship. As I have prayed and thought about this, it seems to me that before I engage the Vestry in this discussion, I wanted to ask for your cooperation rather than issue mandates.
Therefore, I want to remind you of the current Diocesean guidelines relative to face masks.
– Facemasks are optional for those who have been fully vaccinated. Fully vaccinated is defined as having received the full dosage of a vaccine and at least two weeks have ensued.
– Facemasks are REQUIRED for those who have not been fully vaccinated.
My request of all who attend worship is that we all wear our facemasks when we are not seated and indoors regardless of vaccination status. Further, I request that we all wear our masks while we are singing as a congregation.
Note that singers on camera may remove their masks. To provide an extra layer of protection, we will be asking that all non-music team members sit behind the reserve signs we will place behind the pews where the choir sits.
I am asking for your cooperation in hopes that we will keep the Covid virus out of our worship space. I am asking for your cooperation in hopes that we keep each other healthy and uninfected. I am asking for your cooperation in hopes that all our children, especially those who are unable to receive the vaccination, will be able to start school and attend uninterrupted by having to quarantine.
I know that facemasks are uncomfortable. I am also aware that we are not all of one mind about the virus and facemasks. Like you I am frustrated that we are in the midst of another surge.
However, I am asking all of us to do all that we can to keep each other, especially our most vulnerable family members, safe and healthy.
As I said last Sunday, together we will persevere through this pandemic. Together we can do our part to keep each other from suffering the effects of this virus.
The staff and I will continue to wear our masks to keep ourselves and all of you safe. I request that you follow our lead for the good of our St. George Family.
May God bless, preserve and keep you and your loved ones this day and always.
Peace,
Ram+
Click here to view a special video message from Fr. Ram Lopez regarding updated covid guidelines and protocols beginning this Sunday! See you this weekend and have a blessed rest of the week. You may also click here to read the Diocesan guidelines.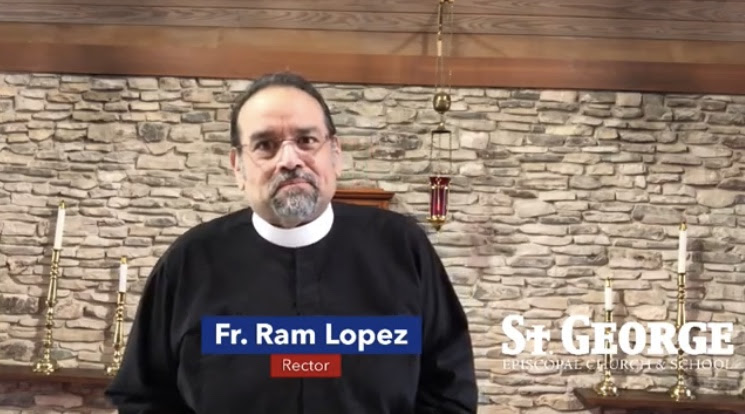 Please click here to watch a video in which Fr. Ram discusses the plans for an in-person worship opportunity.
Please click here to watch a fun video detailing what it will look like when we return to in-person worship. Thank you to our fabulous staff for putting this together!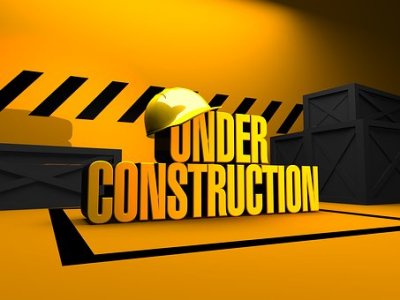 Dear St. George Friends and Partners in Christ:
I am pleased to inform you that the Trustees of the Church Corporation of the Diocese of West Texas have approved our Parish Hall renovation project.  Our General Contractor, Marc General Construction, LLC, will begin their work in earnest this coming Monday, June 3.
During these coming Summer months we will be unable to access the Parish Hall as a matter of safety.  We have also adjusted our schedule this summer taking into account this renovation project. One example of that is our Pentecost Worship and Fun Formation Day at 10 am on June 9th.
Below follows a summary of this project:
History:  The Parish Hall and the building connecting the worship space to the existing Parish Hall were part of a St. George Church and School Building Project in the early 2000's.  Used almost every day of the week during the school year, the Richards' Building and the Parish Hall have been well maintained. Although many are in agreement that the Parish Hall space is in need of a facelift.
Current:  Over the years both St. George Church and School have seen changes in the way we operate together and use our shared spaces.  The Parish Hall, specifically, has been and continues to be a prime space for our Fine Arts offerings. As our Fine Arts energy has increased over time, the deficiencies of the space have moved to the forefront.  The stage itself is inadequately sized for adult or student fine arts offerings. The lighting is basic fluorescent lighting, non-adjustable and affixed alongside outdated suspended-ceiling tiles. The floor is basic vinyl tile that is showing wear and is not acoustically helpful..
Plans:  We engaged an architect familiar with the St. George Community who could help us reimagine the space.  The goals are for a larger stage for both adult and student fine arts offerings; to give us flexibility with new  lighting technology for various types of gatherings; provide a warm, welcoming space for our students, their parents and our faculty who eat their lunch in that space; give us opportunities to host local and national speakers and artists to use the space to enhance our mission; and create a lovely space which would encourage fellowship after Sunday worship.
Recent Actions:  Recently, the Vestry and the School Board met in joint session to discuss the proposed renovation, funding and contractor bids.  After some discussion, both bodies elected to accept the bid provided MARC General Construction, LLC.
The following was agreed upon as the total budgeted amount for the project:
Costs:
Construction and FFE Total…………………………..$384,765
The following sources of funding were allocated:
From the School:
Total:                               $350,000
From the Church:
Richards Unrestricted Bequest:$ 75,000
Total Project Funds Available:  $425,000
In our financial planning, we have provided for significant contingency, primarily in the Furniture, Fixtures and Equipment (FFE) line.  This renovation will not require us to add to our existing loan from the Seeds Project in 2014-2015.
A word about the Margaret Richard's Bequest:  Margaret and Allen Richards were faithful members of St. George.  The Richards' Building which houses the Parish Hall bears their family name as the result of their donation to that capital project in the early 2000's.  We received an unrestricted final bequest after Margaret's death in 2017. The monies have been in our Reserve Funds since we have received them.
As the Vestry discussed this project it seemed right to participate in its funding, since the Church's mission and ministry program would be greatly enhanced by this renovation.  The question of where to find the funds remained. We did not want to launch a capital campaign nor did we wish to use operation funds. It seemed right to us to use some of Margaret Richards' final gift (approximately ⅓ of the total)  to put towards this renovation project.
This project, from inception to approval, has been a very fast process.  It has been so in order to take advantage of the summer window when the Parish Hall is least used.  The time frame and desire to not add cost to the project necessitated a decision to not seek an artistic rendition of the final product.  However, Keith Earle or I will be happy to "talk" you through parts of the upgrade about which you may have questions.
I invite your prayers over the next two months for this project – for safety of those who are doing the work; for safety of all who are on campus during construction; for protection against unnecessary or surprising delays; for the lives of those who will be transformed by the Grace of God in that space as they receive words and music, as they are embraced in friendship and fellowship.
The Holy Spirit is once again stirring up the people of St. George to a significant work.  Join me in giving thanks for all that God will do among and through us in our renovated Parish Hall.
Peace,
Ram+
A short essay by Fr. Ram Lopez
Baptized member. Baptized, communicant. Baptized, confirmed, communicant in good
standing. All of these are technically definitions of "membership" in an Episcopal Church.
Technically correct but not really helpful to someone new to Episcopal ways and making
their way along one's spiritual walk.
So, what does membership mean in an Episcopal Church? More specifically to the
reader of this essay is this question: How do I become a member of St. George? Over the
next few paragraphs, I want to unpack that question in ways that might help us make sense of
the canonical categories. My main goal, however, is to help the reader make some
determinations of how they will nurture their ever unfolding faith life and how the community at
St. George can support that growth.
Before we can get there, we need spend time reflecting on the notion of "belonging."
"Belonging" is a basic need. All humans have a need to belong. We belong to our parents. We
belong to our schools. We belong to clubs and other groups. To belong is to become a part of
something larger than just our own individuality. We understand and grow in our own sense of
self-identity as we mix and mingle with others.
Belonging to a faith community has one key difference to other types of belonging. We
make a choice to actively participate in a group that may or may not share our specific affinities.
In fact, we can say with assurance that when we are at Church we are often in proximity to
people who are very different from us: we hold different political ideas, we have different life
circumstances and commitments, we come from different cultural or generational backgrounds.
The folks right next to us in the pew—as unfathomable as it may seem—might be Lakers fans
and not Spurs fans! Yet, in spite of our external differences, we choose to belong to the same
church, share the same bread and wine and share the same call to serve our Risen Lord by
worshipping, learning, and growing together as part of the same faith community.
Belonging—that is, claiming our place as ones who belong to St. George, who are a part
of this faith community—is the first step on this particular phase of our spiritual journey. If you
are reading this, it is likely you are new to St. George. If you choose to belong to this vibrant
community, you need only express your desire and say that you belong. And know that once you are a part of the St. George family, you are always a part of the family—even if life moves you from here.
YOU belong. As such, you are a member of the Body of Christ in this place.
After a time of belonging (and this is different for each of us), we find it a logical next step
to be baptized (if we have not been already) or be confirmed. The Canons provide different
ways for us to connect to the larger Body and the Prayer Book gives us rituals to mark those
moments of passage to more intentionally responsible categories of membership. As we
worship, learn, and grow we discover that God has invited us to be baptized (or, if we have been
baptized already, to reclaim our baptism) in ways that allow us to share with our sisters and
brothers in receiving the Body and Blood of Jesus. This makes us a "baptized communicant,"
meaning we are a baptized person who receives communion. To receive communion at a
minimum of three times per year, we become a "communicant in good standing." After a time
of connection and conversation with others who are seeking to reaffirm their faith, we can be
confirmed. This makes us a "baptized, confirmed communicant." If we are a "giver of record,"
that fact and our "membership" status" is listed as "baptized, confirmed, communicant in good
standing," then we have opened to us opportunities to lead and serve in the local and wider
Church—Vestry, ministry leadership, Diocesan participation and leadership, and ordination. The
priest of the congregation or the Bishop can baptize. Only the Bishop can confirm and ordain.
It is important to note that baptism, being a communicant, and confirmation are deeper
manifestations of "belonging." These levels of "belonging" balance our giving and receiving.
Early in our life of belonging, the Church might have many offerings that meet our needs—or
the needs of our family—for learning, growth or healing. As we move through the sacraments of
Baptism and Confirmation, we balance our receiving with increasing levels of giving (financial
and time) to meet the needs of others both inside and outside the congregation. Obviously,
everyone's experience is different, but this is a general sense of the movement from belonging to
membership.
If you desire to belong to St. George, then please contact the priest of the congregation
and that can be done. If you wish to take your belonging to deeper levels of service and
responsibility, please speak to the priest about baptism (if you are not already baptized) or
confirmation.
We are delighted that you have chosen to belong to this vibrant community and are
eager to see what God brings to St. George in you!
Please join us on Thursday, August 31 at 7 pm for a time of prayer for all those who have been affected by Hurricane Harvey. We will gather in the Sanctuary to say the prayers of the Church, hear and respond to God's Holy Word and say our prayers. This prayer service is open to all so please feel free to invite family and friends.
Note: Parent Orientations will also be occurring on Thursday evening. Parking is available both off West Avenue and off Castle Lane including the area behind the two small houses.
Dear St. George Family:
This is a reminder to you that tomorrow, Sunday, August 27th, St. George will have ONE SERVICE of Holy Eucharist at 10 am. There will be no other regularly scheduled activities held.
As you are no doubt aware, many residents in the Coastal Bend area have sustained devastating damage due to Hurricane Harvey. Information continues to slowly emerge through various news media avenues – much of it disheartening. Many of those affected are our own family members and friends. Please keep all those affected by this massive storm in your fervent prayers.
Please continue to monitor the local weather conditions. Large amounts of rain totals and widespread flooding continue to be in the forecast. Your physical safety, and the safety of your loved ones, is my primary concern. So please, if you are in doubt, err on the side of caution. Below you will find a link to the City of San Antonio website where you can see emergency street closures.
I have also provided the link to the Diocese of West Texas website. There you can find an up-to-date section of ongoing developments as the diocese responds to Hurricane Harvey and to make a financial donation for relief efforts during and after the storm.
May God bless you and those whom you love this day and always.
Peace,
Ram+
San Antonio Road Closures:
http://www.sanantonio.gov/Public-…/Emergency-Street-Closures
Episcopal Diocese of West Texas:
http://www.dwtx.org/
Dear beloved in Christ:
You are all by now aware that the weather this weekend is going to be severely affected by now Hurricane Harvey.  Weather forecasters are warning that it will likely intensify to category 3 by the time it makes landfall late tomorrow or early 
Saturday
.  Bexar county is included in a number of severe weather warnings and watches being issued by the National Weather Service.
Local rainfall estimates may be potentially dangerous and flooding will be an issue.  I am certain that many of you have family and friends who may evacuate to San Antonio.  Helping your family and friends and tending to other pressing matters brought on by the weather will, rightly, be your main concern.
Therefore, in consideration of all this and to ensure the safety of you and your family, I am going to make the following changes for 
this Sunday
:
1.  
The Blessing of the Backpacks and Educators will be rescheduled to 

Sunday, September 10th

.
  We want to make sure that everyone has the opportunity to celebrate Back to School time safely.
2.  
There will be only ONE SERVICE 

this Sunday

 at 

10 am

.
  I want to make sure that everyone has time to ensure safe travel to worship.  All other 
Sunday
 morning activities will be cancelled.
I will keep you posted as things develop.
Please join me in praying for all those in the path of Harvey and for those who love them:
Most loving Father, whose will it is for us to give thanks for all things, to fear nothing but the loss of you, and to cast all our care on you who care for us:  Preserve us from all fears and worldly anxieties, that no clouds of this mortal life may hid from us the light of your gracious love.  Be with all those who are in the path of Hurricane Harvey and shield them from harm.  Strengthen us all to respond to those who will need our help in the storms aftermath; through Jesus Christ our Lord, who with You and the Holy Spirit live and reign for ever.  Amen.
Peace,
Ram+