Worship Location Change for This Sunday
Our 8:30 am Eucharist will be in All Souls Chapel, upstairs in the Leadership Center, this coming Sunday, December 17th.
We are making this change in order to facilitate set up and preparation for our Lessons and Carols service which will occur at 10:45 AM.
Thank you for your understanding. All of us look forward to a wonderful Sunday of worship and fellowship!

Our annual Greening of the Church will take place on Thursday, December 21 beginning at 5:00 PM. We need volunteers of all ages to help us setup the Sanctuary for our upcoming Christmas Season worship services. We will be putting up wreaths, decorating with poinsettias, and setting out our Nativity. Pizza will be served. Afterwards, we'll spread the Christmas spirit by caroling through the neighborhood!  Hot chocolate will be served afterwards.

Join us for our worship offering at 10:45 AM on Sunday, December 17th for our joyous Lessons & Carols Service led by our Music Ministry and our Lector Ministry. This annual presentation is a wonderful tradition that celebrates the pairing of  beloved scriptures with melodies and songs that celebrate the coming birth of our Savior.  Come and hear how God's message speaks to the people during this time of reflection, prayer and Song! All are welcome for this service, and nursery is provided.  Please note that this is not a Eucharist-based worship. If you would like Communion as part of your worship, please consider attending the 8:30 AM service.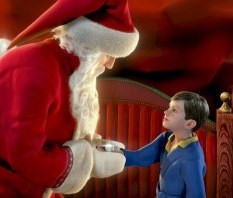 It's that time of year again…time for our annual Polar Express Party!!
Kids, come dressed in your pajamas and get comfy with your sleeping bag and pillow as you take a ride on the Polar Express! We'll watch the famous Polar Express movie, have hot chocolate and cookies, and a whole lot of holiday fun! Limited space available, so don't miss your chance. Reserve your spot today! Email Happy Wilson at hwilson@saintgeorgechurch.org.
WHEN: Sunday, December 3, 2:00-4:00 PM
WHERE: Parish Hall/School Cafeteria
WHO: Kids in Kinder-5th grade