On Saturday, January 30, 2016, Marilynne Herbster and Pat Whitehouse were invited by The Rev. Brian Cannaday to lead a training session on Prayer Team Ministry at St. Helena's Episcopal Church in Boerne, Texas.  Present were fourteen parishioners along with Brian. The morning was spent sharing about intercessory prayer and how prayer teams worked together during Sunday morning services.  In addition to time spent teaching about prayer team ministry, Marilynne and Pat each selected a "prayer partner" from the gathering and then let the trainees experience being prayed for.  All in all, a wonderful morning of teaching, fellowship, and praying was experienced by all.  Thanks to Brian for the opportunity to share our prayer team ministry here at St. George!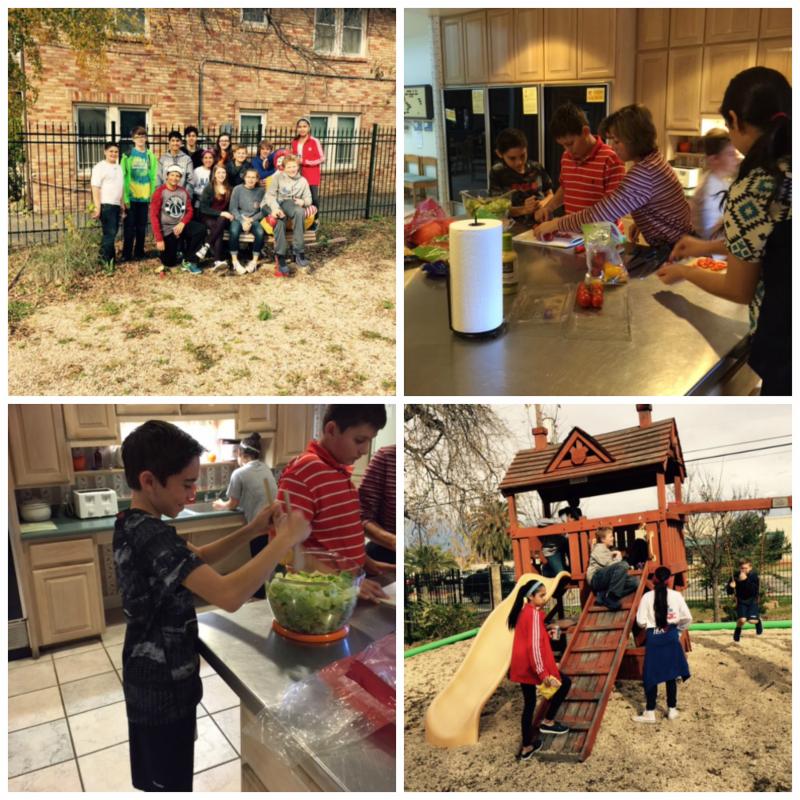 On Saturday, January 16th, twenty-seven St. George School Beta Club members participated in service projects at the two local Ronald McDonald Houses. The Ronald McDonald House crews split into two groups which met at the local houses to donate three hours of our time. Helping at the downtown location were Zac Addkison, Kevin Black, Katherine Book, Jillian Burns, Tim Clary, Cecilia Garcia, Gabriela Garcia, Cardo Gutierrez, Kristen Lannom, Parker Lannom, Kyle Meister, Nico Pacheco, Ty Short, and Erin Stewart. The Medical Center location participants include Jalen Appleby, Ian Bick, Lauren Bick, Bella Church, Ethan Church, Diego Gonzales, Sara Homma, Pierce Kasson, Gabriela Notzon, Nico Pacheco (Yes, he worked both shifts at both locations!), Gia Pisano, Trey Plante, Kelsey Selva, and Jacob Stidham. Each group prepared a meal of homemade chicken noodle soup, salad, bread, and brownies for 40 people and also performed some light house cleaning. We had a great time being chefs in the Ronald McDonald House kitchens as well as putting our cleaning skills to good use. Club sponsors who led the project were Keith Earle and Rebecca Voyles. The Beta Club would like to especially thank Linda Addkison, Mireya Appleby, Nicky Gonzales, Kristene Stewart, and Maria Zamora for being the supervising parents during these special service activities. The St. George Beta Club is proud of our continued service to our community.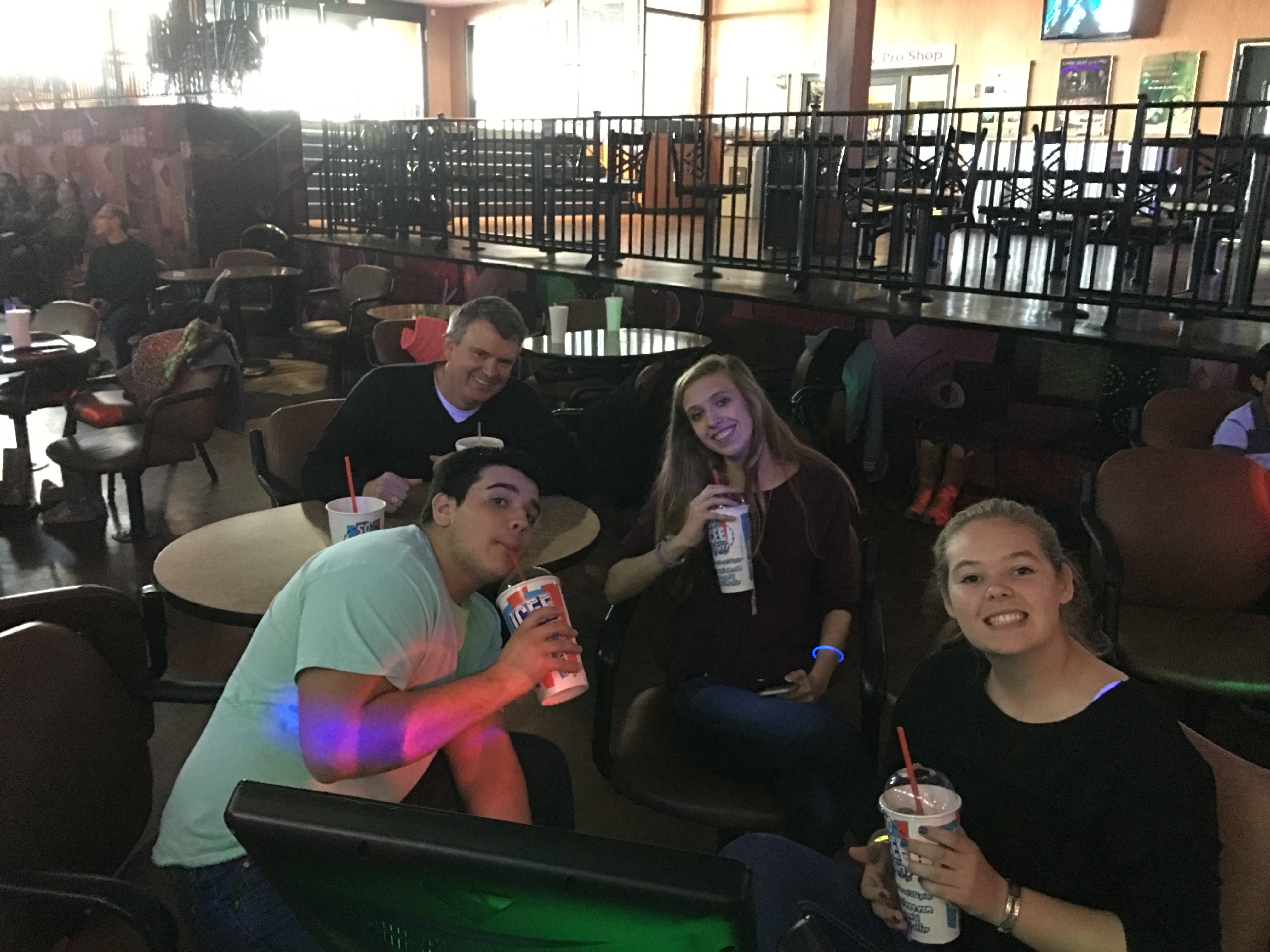 The St. George Youth Group took a break from on-campus Youth Group and headed over to University Bowl this past Sunday for some good ol' fashioned bowling fun. The kiddos enjoyed a couple games of bowling and some pizza, burgers, and fries. Lauren Devlin was our champion bowler so be sure to congratulate her for her win on Sunday. Next week the Youth Group will re-convene on campus @ 9:30 am! Also, quick reminder, please be sure to sign up for one OR both Youth Retreats (click here for information).  If you want or need more information please contact Daniel for more information @ dforman@saintgeorgeschool.org.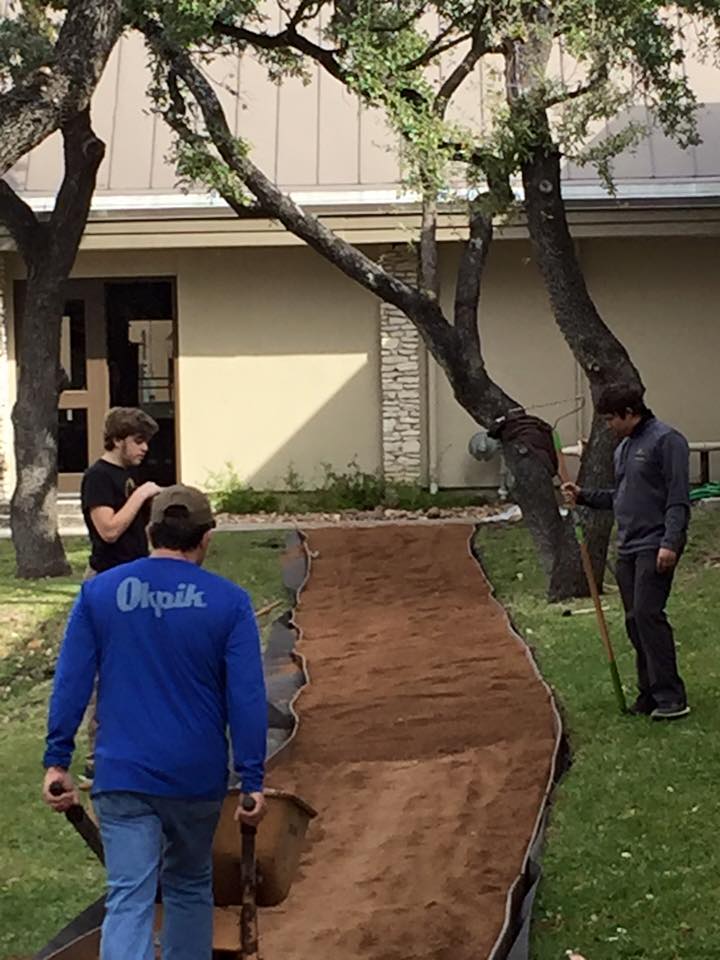 Xander Dietrich chose St. George for the site of his Eagle Scout Project.  He is creating a walkway from the Castle Lane lot to the Leadership Center for our after-hours groups to use.  His project also brings young people from the Scouts and the 4-H group that meets monthly at St. George together.    We thank Xander for thinking of us and his many helpers for their hard work on this project.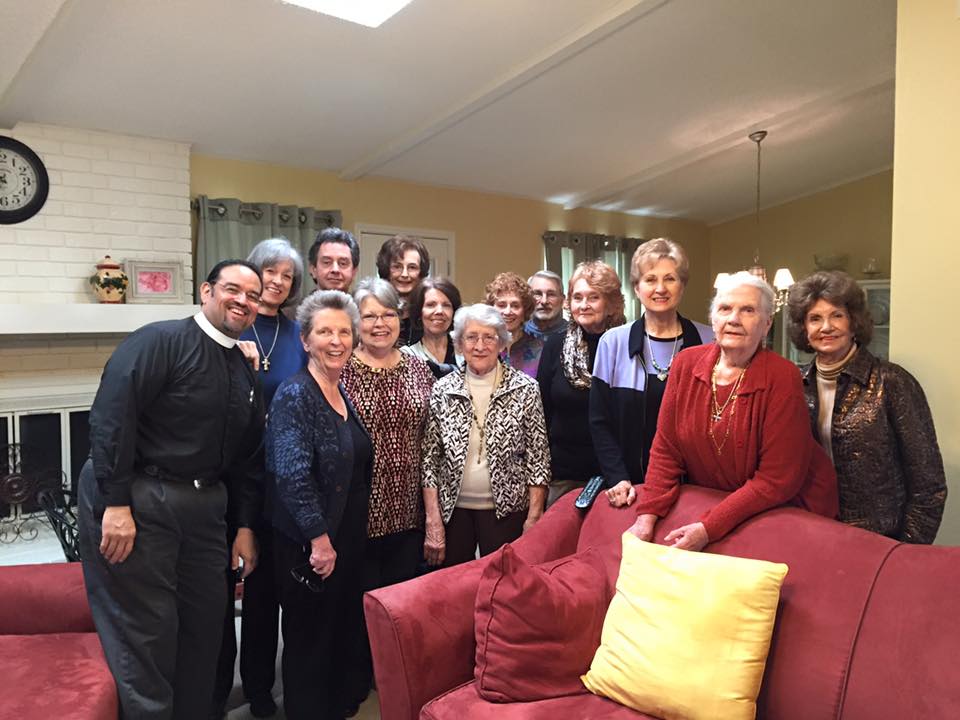 Great way to begin a full day of life at St. George!  Thanks Alana for letting us come be a part of God pouring out blessing upon you and your lovely home! House blessings are great excuses to get your friends and family together to pray and eat!  –Fr. Ram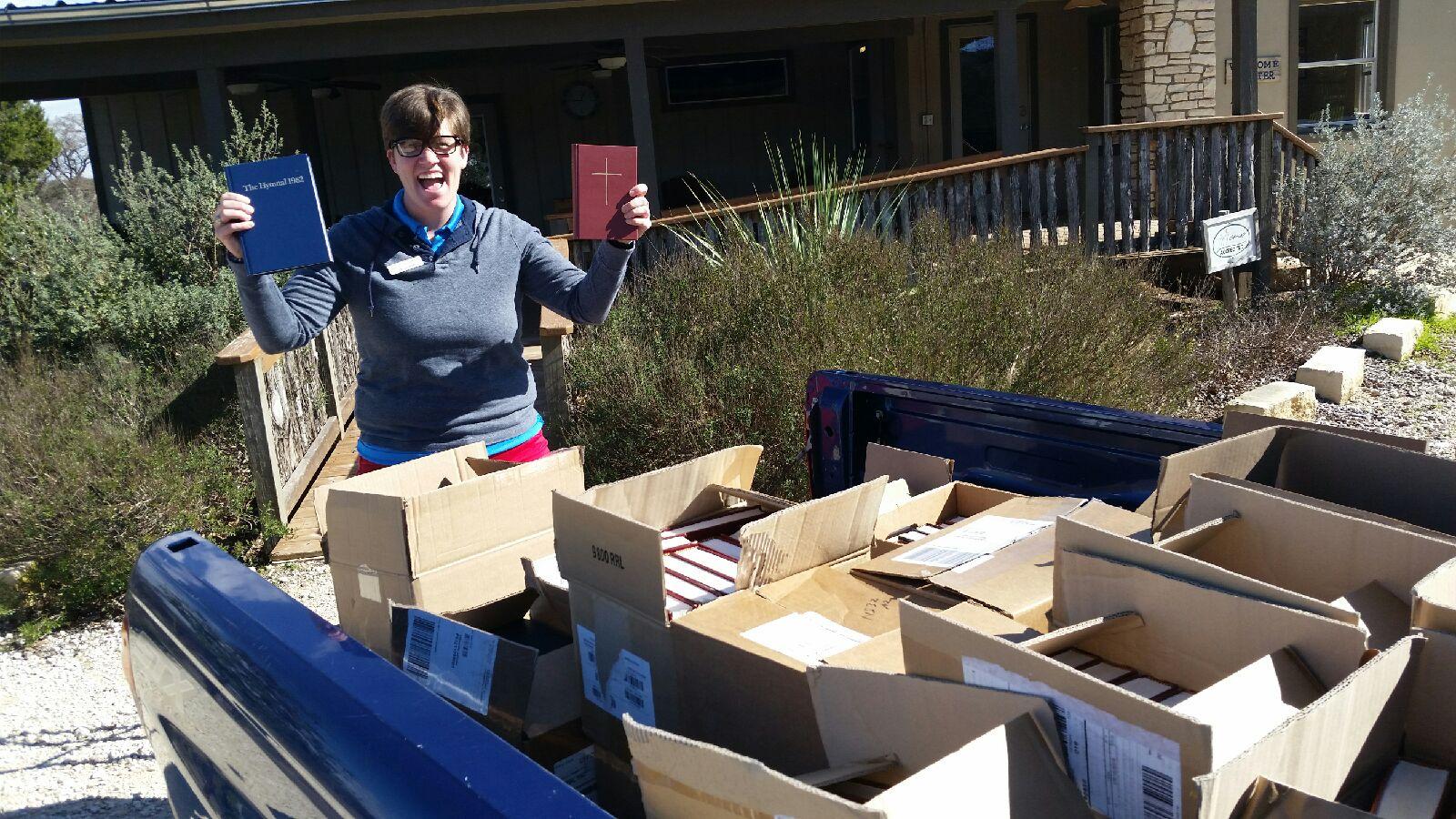 Following the completion of our Sanctuary Revitalization project this past summer, St. George had many used Hymnals and Books of Common Prayer that were taken out of the pews and replaced with new ones. Thanks to the missional thinking of the Vestry, our used books were taken out to Camp Capers this past Friday as a donation to replace their current set of books. If you've been to Camp recently, you are aware that the Hymnals and BCPs out there were in need of retirement. Camp Capers is thankful for the generous gift from St. George, and we are thankful for the work and ministry done at Capers. Thank you to Jerry Carden for taking the books out to Waring, and another thank you to Gene Rachels, whose legacy gift funded the majority of the Sanctuary Revitalization.
The picture shows Meredith Rogers, Program Director of Camp Capers, happily accepting our gently used books!

Later this month, St. George Parishioner Art Meier will be taking his 22nd trip to Honduras with the Texas Water Mission, which is a project of the Diocese of West Texas (http://texaswatermission.org/our-history/).   The team will be researching new drilling sites, checking on 17 prospective well sites, and meeting with the World Vision Charity.  Since 2002, 80 wells have been drilled, serving over 50,000 people.  Art Meier serves on the Diocesan Texas Water Mission Operations Committee, and this trip to Honduras will be his 22nd.
Please keep Art and the team in your prayers as they do this important work.  To read more, please click here.  We'll follow up with Art after his return.
Camp Capers weekend MidWinter Camps Countdown……..3 Days!!  Break the winter cycle by adding some Camp Capers Fun!  If you have not had a chance to register, there is still time!  Go to www.dwtx.org/events or log into your Ultracamp account.  Please contact Shelly Agee/Registrar at camp.capers@dwtx.org or 830-995-3966 if you have any questions or need assistance with registrations, hope to see you there!  Scholarship Assistance is available.
MidWinter I Jan 8-10, 2016 (Senior High Students)
MidWinter II Jan 15-17, 2016 (Grades 6-8)
MidWinter III Jan 22-24, 2016 (Grades 3-5)