What did you put on your wish list for Christmas? Did you ask for a walker because your family couldn't afford the device that would allow you to walk around your home? Did you ask for coats because no one in your family had one as winter approached? Did you ask for professional clothing because you had nothing to wear for upcoming job interviews?
Probably not. I suspect wish lists for St. George families included such things as the latest popular toys, stylish clothing, and updated technology. Most of us are fortunate enough to afford the necessities of life, but did you imagine the items above were on the wish lists of families in our own neighborhood, families whose children attend Larkspur Elementary?
As a part of their goal of year-round stewardship, the Order of the Daughters of the King at St. George agreed to adopt a Larkspur family and provide some of their wishes for Christmas. Through the generous giving of the Daughters, not only did they provide gifts for one family but eventually provided for three families with additional $50 HEB gift cards to two more families!
After Julabeth Carden had bought gifts for all the individual family members, the Daughters met on a Sunday after church to wrap all the gifts. What a joyous occasion it was as we got into the spirit of giving and listened to Julabeth tell us the amazing stories of these families. She was fortunate enough to accompany a Larkspur administrator to deliver the bounty and see many faces light up with joy.
The Daughters have pledged to collect needed articles to donate monthly to Larkspur families. Items that we take for granted such as laundry soap, socks, underwear, and snacks are above many a family budget just blocks away from us.
To hear more of the specifics of these gifts and our neighbors, come to the Annual Meeting and hear Julabeth's full report. You will surely receive a blessing!
The Annual Parish Meeting will be held on Sunday, January 29th at 9:30 AM.  Tacos, juice and coffee will be served. Childcare will be available.  For more information, click here.

Please join us for Holy Eucharist on 4:00 on New Year's Day, and stay for…
Rector's Black-eyed Pea Throwdown Challenge!!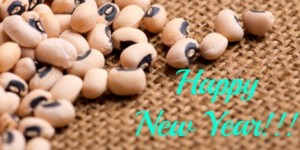 Fr Ram will be cooking up a batch of his black-eyed peas to share after the 4 pm Holy Eucharist on New Year's Day afternoon.  All you cooks are invited to boil up some peas and bring 'em out for all God's people to sample!
Everyone else is invited to bring their favorite New Year's Day snacks (cheese trays, tamales, relish trays – you name it) and we will enjoy fellowship and start the year with Jesus and each other.
Black-eyed pea cooks:  Please email our Director of Operations and Management, Maricela Graciano-Ramos (mgracianoramos@saintgeorgechurch.org) so we will have a place to plug in your crock pot.  Small serving cups and spoons will be provided so that you can share your culinary artistry!