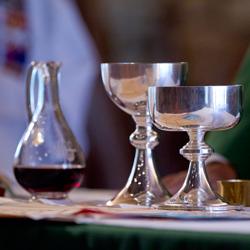 We will be holding First Communion classes beginning January 19 during the 10:45 AM worship service! Any baptized child in the 1st-5th grades are invited to attend this 5-week class series! The curriculum we will be using is modeled on the Eucharist format:
We Gather (Lesson 1)
We Hear and We Respond to the Word of God (Lesson 2)
We Offer our Gifts (Lesson 3)
We Celebrate (Lesson 4)
We are Sent Out (Lesson 5)
Because children learn with all their senses, activities, and instruction will be included that engage them throughout each lesson.
The classes will be led by Happy Wilson in Multi-Purpose Room (Middle School building) during the 10:45 AM worship service on the following Sundays: Jan. 19, Jan. 26, Feb. 2, Feb. 9, Feb. 16. Fr. Ram will lead lesson 4, We Celebrate, on Feb. 9 after the 10:45 AM worship service. The First Communion service will take place on Sunday, May 3.
You may register your child for First Communion classes by contacting Happy Wilson at hwilson@saintgeorgechurch.org.