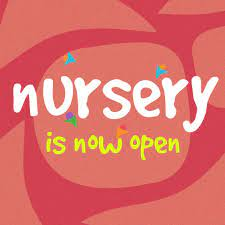 We are so happy to announce that our nursery is now open to all children 3 yrs. old and younger! Ms. Estela, Ms. Kim, Ms. Mary Carmen, Ms. Adriana & Ms. Jackie are excited to welcome all our little ones back!
We do have new COVID-19 safeguards in place. A few are listed below. To view the entire list of new safeguards, please click here.
For COVID safety purposes, we will still require all children attending the nursery to check-in. You may fill out this simple & short CHILD CARE CHECK-IN Form prior to arriving at church. Or, you can choose to use the QR code that will be posted in the nursery, or you may fill out a form in-person.

Child Care Staff and children attending childcare will undergo temperature checks

Child Care staff will be required to wear masks, regardless of vaccination status.

While children 3 yrs. and older are encouraged to wear a mask, it is not mandatory. Please discuss your plans for mask wearing with your child. You will be asked during check-in of your family's decision on mask wearing.

Parents will provide any snacks or drinks their child will need (snacks will not be provided by the nursery). Snacks & drinks must be in disposable containers.