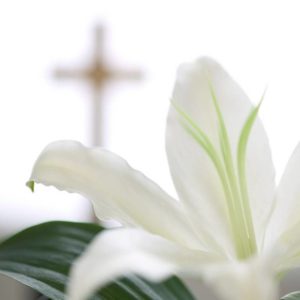 Dear St. George Family:
I want to invite you and your loved ones to be a part of our Easter Sunday festivities.
Worship on this high feast day of the Church will be at 8:30 am and 10:45 am.  In between services we will have an Easter Brunch, Easter Egg hunts (by age) for all the children; and the Flowering of the Cross (symbol of the new life that bursts forth in the world at Jesus' resurrection).
I will offer an Easter Message at both services and adhere to my yearly practice of inviting the children forward to participate in the sermon at 10:45 am.
I also invite you to attend our Holy Week services:
Maundy

Thursday, April 13 at 6:30 pm

Good

Friday, April 14 at noon and 6:30 pm

Holy

Saturday, April 15 at 9:30 am

 (refreshments will be offered to all who come and stay to help the Altar Guild decorate the Church for Easter Sunday)
Kendra, Christopher and John Michael look forward to being with you and your loved ones this Easter.  Come and worship the One whose Resurrected Life has the Power to change your life and the life of the World!!!
Peace,
Ram+